This article is more than 1 year old
Pakistan URINE STORM: Google Maps chokes off user editing
Choc Factory calls for a rethink in pisstake mistake
From Tuesday, Google is cutting user edits from its Maps after admitting that it simply can't prevent online tricksters from abusing the system.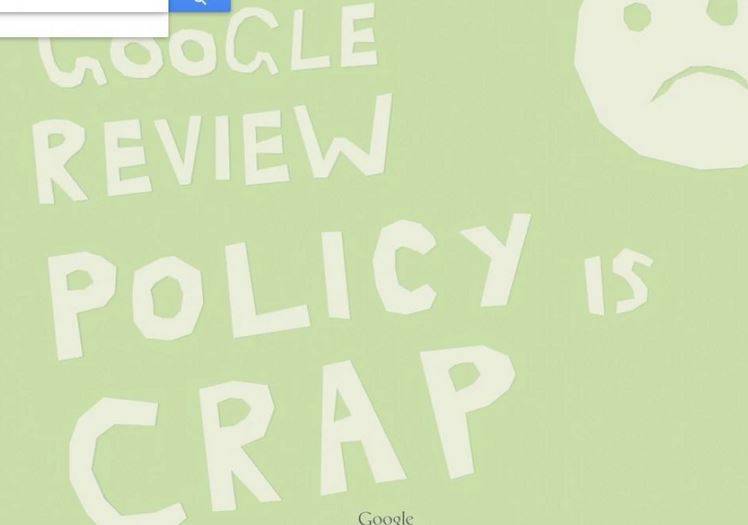 A much less creative attempt, although more to the point
Last month, the firm was forced to make some quick edits after a user noticed that someone had created a mythical park in Pakistan in the shape of the Android mascot robot relieving itself over an Apple logo. Another user spotted a similar bit of graffiti proclaiming "Google review policy is crap," and the firm has now decided to take action.
"A strong user in our community chose to go and create a large scale prank on the Map," said Pavithra Kanakarajan from the Google Map Maker team in a forum post.
"As a consequence, we suspended auto-approval and user moderation across the globe, till we figured out ways to add more intelligent mechanisms to prevent such incidents. All of our edits are currently going through a manual review process."
While manual editing appears to be solving the problem there's no way Google's engineers can keep up, he explained, and any new edits were just adding to a backlog of things that need to be checked. So no more edits will be accepted until Google has worked out how.
"While this is a very difficult, short term decision, we think this will help us get to a better state faster," Kanakarajan said. "More importantly, we believe it is simply the right thing to do to all of you, our valued users who continue to edit with the hope that your changes might go live as fast as you've been used to."
Plus it saves on embarrassing headlines, too. Kanakarajan didn't specify a deadline for resuming edits. ®