This article is more than 1 year old
'It's the Enzo the world as we know it and VDI feel fine' is VMware's new desktop tune
Virtzilla puts its end-user computing kit onto EVO:RAILs with Project Enzo
On Tuesday, Citrix kicks off its annual Synergy conference. So on Monday, VMware put out an announcement about its own end-user computing goodies.
That announcement is called "Project Enzo" and is billed as offering "unified management of on-premises and cloud-based virtual workspace services". What's a virtual workspace? That's what VMware is now calling an app or desktop delivered from a data centre somewhere.
And what's Enzo? To understand it, think back to the UI VMware slapped onto its EVO: RAIL hyperconverged rigs, and how that effort just about turned the job of spawning a bunch of virtual machines into a Wizard. Think also of the sprawling Horizon range of products VMware uses for VDI and app delivery. Enzo abstracts plenty of those tools, to give an EVO:RAIL-like experience for all the effort that goes into creating virtual desktops, populating them with applications and distributing them to end-users.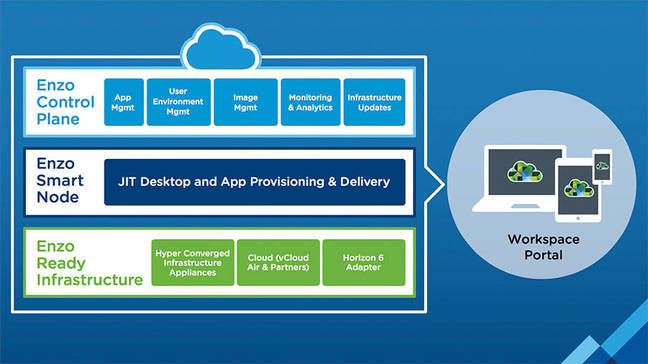 All the bits of Project Enzo
VMware's talking up Enzo as a "control plane" for VDI efforts. Enzo controls "Smart Node technology", jargon for servers running all the stuff under the hood. That stuff looks to be most of VMware's end-user computing bits, which are now tamed by Enzo's UI to become simpler to work with. The idea seems to be that the combination of Enzo and Smart Nodes are needed to get to outcomes like deployment of 2,000 virtual desktops in an hour.
Virtzilla's going to badge "Enzo Ready Infrastructure" as Smart Nodes and make its own EVO:RAIL and EVO:RACK converged not-just-reference-architectures conform to the Smart Node requirements.
One thing Smart Nodes do is handle the orchestration between VMware's end-user computing apps, physical resources and the cloud. You guessed it, folks, this is a hybrid cloud play whereby VMware wants you to run Enzo wherever it suits you best, but to run the resulting app-and-desktop-delivery systems from wherever takes your fancy.
Enzo's a tacit admission by VMware that its end-user computing products have hitherto been rather hard to deploy and manage. By simplifying matters, it should be welcome. Whether customers see value in that simplification when it comes with the caveat of required hardware is another matter. VMware and kissing cousin VCE are betting that customers want to take the hassle out of hardware. But The Reg's virtualisation desk hears that at least one EVO:RAIL partner is finding it rather hard to excite customers about the concept and is contemplating how long it should stick it out.
Enzo's going to emerge in beta "later in the summer of 2015" and will go on sale by year's end.
VMware will also show it off at Citrix Synergy, bringing a little parade-rain into Citrix's very own show and returning the favour after Citrix made a VMworld-eve announcement last year.
The Reg's virtualisation desk knows a little of what will be announce at Synergy, but can't reveal it just yet other than to say that Citrix too will be asking its customers to commit more of its stack to hardware. ®