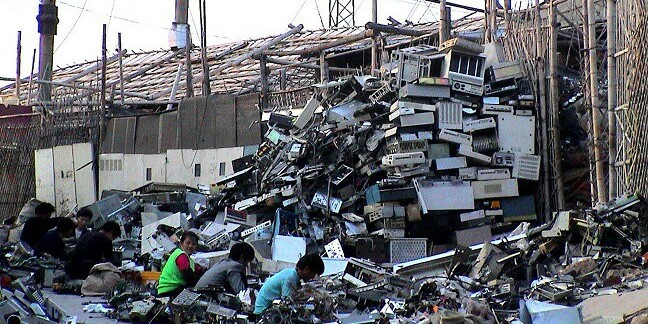 A report by the United Nations Environment Programme (UNEP) claims that up to 90 per cent of the world's e-waste, which Interpol reckons is worth almost $19bn, is illegally traded or dumped annually.
The report, titled Waste Crimes, Waste Risks: Gaps and Challenged in the Waste Sector, suggests that between 60 and 90 per cent of this waste is illegally traded or dumped, at enormous levels of profit for criminals.
An earlier study by the UN reckoned the electronics industry generates an estimated 41 million tonnes of e-waste each year.
The present $19bn valuation comes from the International Criminal Police Organisation (Interpol), which estimates the price of a tonne of e-waste at around $500. As such, Interpol values criminal enterprises handling the waste as worth $19bn annually.
As global population, urbanisation and consumption all rise, the amount of waste continues to increase beyond an already considerable surplus. Forecasts suggest that the worldwide e-waste total may rise to 50 million tonnes by 2017. UNEP reports that this creates not just environmental problems, but also social, health, economic and even criminal challenges:
Due to high costs of treating and disposing hazardous and other wastes, weak environmental regulations, poor enforcement and low environmental awareness, illegal trans-boundary movements of hazardous wastes and other waste from developed countries to developing countries have become an increasing global concern.
UNEP considers that the ability to effectively regulate the global waste market sector, from collection to recycling, may be compromised by inconsistency in international regulation. The waste industry, which is estimated to be worth $410bn annually, excluding "a very large informal sector", has "in common with any large economic sector... opportunities for illegal activities at various stages of legal operations".
Among the largest e-waste centres in the world are Guiyu in China, and Agbogbloshie in Ghana. Along with environmental and health issues for the scrap workers employed at such centres, as detailed in a 2007 report by campaigners Greenpeace, there are information security issues affecting improper electronics disposal. In 2009, a team of Canadian journalists bought hard drives containing US security services' data at a Ghanaian market for $40.
The report ultimately recommends that countries should:
Strengthen awareness, monitoring and information by mapping of scale, routes and state of hazardous waste, and possible involvement of organised crime
Strengthen awareness in the enforcement chain, and of prosecutors, of the risks of fraud, tax fraud and money laundering through the waste sector
Strengthen national legislation and enforcement capacities
Promote prevention measures and synergies, such as facilitate the proper return of illegal waste shipments and at cost to shipper
Proceed with a technical assessment of quantities and qualities of abandoned containers, particularly in Asia, and of dumping of hazardous waste worldwide
Further improve binding agreements on classification of waste.
Critics allege some environmentalist advocacy for increased regulation of e-waste handling in mature economies produces economic disincentives to remove the most hazardous materials prior to export.
The phrase "toxic colonialism" has been used to describe the process by which toxic or hazardous waste is exported to underdeveloped states as an inexpensive alternative for disposal.
This practice came to international attention in 2009, when the Guardian was served a gag order preventing them from reporting on a question asked in parliament by Paul Farrelly MP regarding allegations that Trafigura had dumped toxic waste in the Ivory Coast. ®
Sponsored: Webcast: Ransomware has gone nuclear