IoT World 2015 You may be really looking forward to 3D glasses but based on the latest tech giant's efforts, it may be some time.
Today we tried out Epsom Moverio BT-200 smart glasses at IoT World in San Francisco and were left… underwhelmed.
Not for the first time either: earlier this month, we tried out Microsoft's Hololens and the earth stubbornly refused to move.
Rather than going for professional imaginers like architects, as Microsoft appears to be doing, Epson feels its niche is in the industrial sector and has teamed up with interactive 3D software manufacturer NGRAIN to produce a developer kit that it hopes people like engineers will find useful.
We tried the glasses on as NGRAIN CEO Gabe Batstone walked us through a demo of a portable pump - a small model of which was on the table. The glasses are a little clunky though not that heavy - the weight is shifted to a separate control device that looks and feels like a mobile phone from 2005 and is connected into the headset with a wire. You look through the glasses and fiddle with the mobile phone to go through options and see the projected 3D image.
The idea as outlined to us by Batstone is that people use NGRAIN's software to upload and annotate 3D models of their products - anything from the pump to a military vehicle.
Then, in a software interface on a PC that feels a little like an older version of Photoshop, you can create programs that highlight parts of the device and let you move or mess about with the components.
So, for example, you can select a "replace the air valve" program and it will take you through the steps to do so, highlighting the relevant parts and also allowing you to rotate around the model by holding down your finger on the mobile pad and moving it around.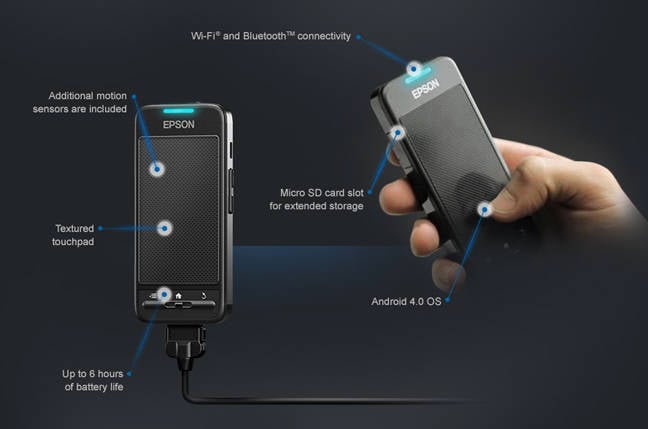 It all works ok. But it's far from great. The image is small and feels a little distant. Resolution is not great. The interface is fine but not precise or natural enough to let you forget you are stood there with a pair of clunky glasses and a chunky control pad.
It was somewhat of a relief when Batstone used a more complex example of a military vehicle and pulled out a tablet. The tablet let you look at a 3D rendering or using augmented reality i.e. superimpose the images on a video feed from the tablet's camera.
Since there wasn't a huge Humvee on the conference floor, we had to imagine. Batstone tells us that the younger guys like the augmented reality; the older guys the 3D model.
Even so, it doesn't feel very futuristic. Someone has to sit down and program in each step. You also have to select which program you want to run. It's like using a Nokia cellphone before the iPhone and touchscreens. Or, perhaps more accurately, like someone has made the old Nokia interface work through a modern iOS device.
A really revolutionary device would let you look at the device with your glasses on and it figure out what the issue is and then given you instructions. Batstone says that in future, it should be possible to reflect what is going on with the actual thing you are looking at by connecting to sensors in the object itself - but that feels a very long way off based on what we saw today.
NGRAIN's software let you upload CAD files in just about every common 3D format, and you subscribe to its Vergence software that lets you add colors and movements and programs. And then it saves it all in the company's proprietary 3KO format. You get to the NGRAIN files on the Epson device by opening an app.
At the moment, Epson and NGRAIN are offering a deal: for $995 (usually $2,000) you get a pair of the Epson glasses, three months subscription to the Vergence software and a quick start guide.
"It's one thing to see it working but another thing entirely when people can upload their own products and interact with them," Batstone tells us.
It certainly better and more enticing that having to flick through a printed manual. And it looks like a solid step toward the future, but as with all other 3D wearable devices right now, we're just not there yet. ®