Samsung debuts Artik, its new software n' chips for the Internet of Stuff
Three models aimed at powering the guts of robots, drones, and devices
IoT World 2015 Samsung has used the occasion of the Internet of Things World conference in San Francisco on Tuesday to unveil Artik, a new set of "building blocks" optimized for wearables and other connected devices.
"Artik provides a platform for developers who simply want to focus on building and testing new ideas for IoT," Samsung's Artik division said in a blog post. "Rather than spend your time writing low-level libraries, we invite you to use our development tools and open APIs to bring wearable tech, smart devices and hubs to market more quickly, cheaply and easily."
The initial offering includes three hardware modules that bundle CPUs, GPUs, memory, and storage with wireless network, sensors, video decoding, and other components that makers of robots, drones, and other Internet of Thingies will want in order to get up and running quickly.
Each of the three units comes with a different level of capabilities in order to meet the needs of a variety of applications. Final pricing wasn't discussed, but murmurings from the show floor suggest the modules will range from $10 on the low end to more than $100 for the top performer.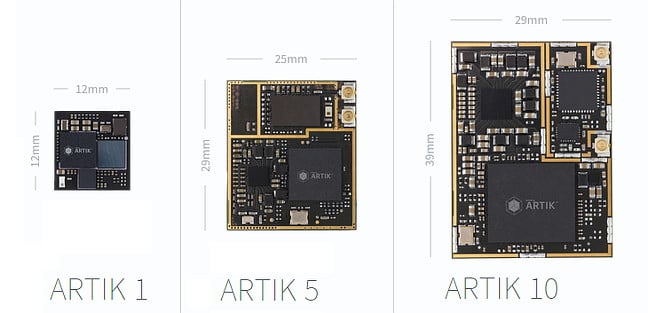 The three debut Artik modules come in different form factors and with varying features
Artik 1: Built for your wrist
The tiniest of the three, the Artik 1, is just 12mm square, which Samsung says makes it the industry's smallest IoT module. Sammy is targeting wearable applications with this one and has pared down its specs accordingly.
Inside, it packs an unspecified dual-core processor with one core running at 250MHz and the other clocked at 80MHz – so it's no speed demon but it knows how to sip power. Samsung says a smartwatch based on it could run for three weeks on a single charge.
The unit includes 1MB of on-chip memory plus 4MB of flash storage, and it can output graphics at up to WVGA resolution (800-by-480). Rounding out the package are a Bluetooth Low Energy radio with an on-chip antenna and a nine-axis motion sensor with a gyroscope, accelerometer, and magnetometer.
Artik 5: The jack of all trades
The Artik 5 is physically more than twice as large as its little sibling, but it also includes a lot more toys built into the package, so it can handle a broader range of workloads.
For starters, it's powered by two ARM A7 CPU cores, each clocked at 1GHz. For graphics it uses an ARM Mali 400 MP2 GPU, which gives it enough juice to pump out 720p video in a variety of formats at 30fps. It's also got 512MB of LPDDR3 RAM and 4GB of eMMC storage based on Samsung's high-density ePoP technology.
Sammy has also thrown in a hardware/software security module that can handle things like data encryption, device authentication, and firmware security.
The Artik 5 also got a broader range of communications and I/O features than the Artik 1. Those start with 802.11bgn Wi-Fi, full-fat Bluetooth in addition to Bluetooth LE, and Zigbee networking. Add in support for USB and MMC flash cards and a variety of I/O ports, and his module will probably be attractive for the broadest range of applications.