Update We invite readers to spare a thought today for the operatives at the Royal Air Force's Remote Radar Head (RRH) Staxton Wold tentacle which, while forming a vital part of the UK's Air Surveillance And Control System (ASACS), is apparently no better suited to civilised living than when the Romans first planted a beacon there in the 3rd century AD.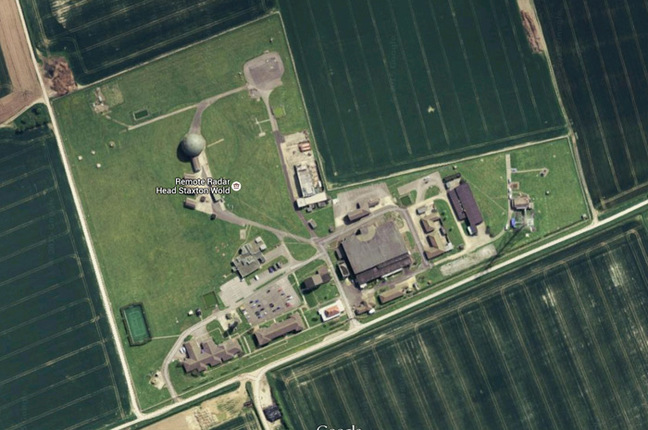 Staxton Wold: The tennis court is probably a post-Roman construction, experts believe
That's according to a cheeky Kickstarter pitch aiming to raise 500 quid from the public to set up a LAN for resident RAF types.
The blurb explains:
There are a small number of serving personnel that live full-time at Staxton Wold in order to keep the skies safe 24-hours a day 365-days a year, but Staxton Wold has fallen behind when it comes to technological advancement. There is a very limited internet connection, intermittent television signal and poor phone signal. But we have come to get used to this and rely on things that do not need outside communication connections, such as buying DVDs, playing single player video games and reading to pass our downtime. Any ideas that have been put forward to resolve this problem have been rejected as unsuitable for the use of public funds. But we're not asking to be funded to get outside communication lines.
It continues:
We're looking to set up a small network for everybody living at Staxton Wold in order to share files with each other, play multiplayer video games and collaborate personal work. This will increase the morale of everybody here and allow us to start on our next big project which, if we manage to get off the ground, will be something for all you to enjoy!
Staxton Wold is one of the original 16 stations which formed the WWII Chain Home radar network. It came online in April 1939, and as the last operating example, claims to be "the world's oldest [continually operating] radar site", according to the RAF.
Given its history, and current status as part of ASACS, you might imagine the station is extremely well connected to the outside world. We asked radar technician Steven Grundy - the man behind the Kickstarter pitch - to explain just how it is that a vital part of Blighty's defence capability lacks even basic IT infrastucture.
He told us:
Staxton Wold has fallen behind when it comes to technological advancement because when the Type 85 radar was removed and ASACS was established in the 90s it was no longer a requirement for there to be any support staff posted here at all. The T102 and now the TPS-77 radar we have only require 15 people to be posted here just to make sure that the radar stays fully serviceable. All of the operations are done from a remote site.

The infrastructure that ASACS have here is top quality, but this can only be used for the radar as it is made from encrypted direct links. The infrastructure we have where we live on camp is non-existent as it was just left as it was in the 90s, due to the small numbers of people living here, the RAF will not fund any improvements. Neither will the mobile telecommunications companies and we are in a television blind spot.
Well, it's a sorry state of affairs and no messing. Mercifully, we at El Reg did manage to spot (without the benefit of radar) a non-encrypted comms lifeline just 800m from RRH Staxton Wold. The Hare and Hounds in Staxton boasts free Wi-Fi with the added luxury of a dartboard and (apparently working) TV.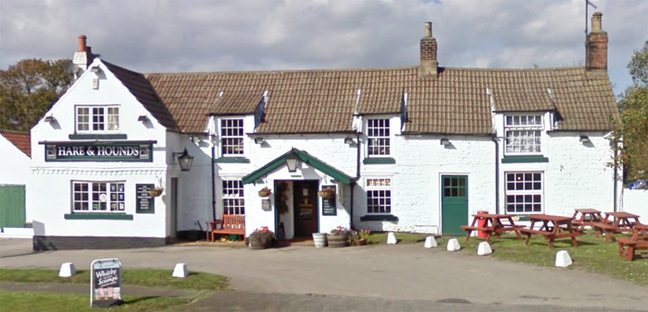 Per ardua ad astra. The Hare and Hounds: Dartboard, Wi-Fi and TV. And beer. Just an 800m stroll away.
®
[We'd also like to draw the distressed RAF servicepersons' attention to our man Bill Ray's chronicles of getting online using a bit of techie gumption at a rather more remote and isolated UK not-spot. We might also mention the large numbers of other UK service personnel around the world, rather more cut off from telly, internet etc - and pubs - than the RRH Staxton Wold crew a few km outside the pleasant town of Scarborough. We might also mention those service personnel facing even more severe problems, and suggest that they are perhaps rather more deserving of our readers' spare cash than the team at RRH Staxton Wold. -Ed]
Update
The Kickstarter appeal was cancelled within about half an hour of us publishing this story. Perhaps Staxton Wold's internet connection isn't that bad after all.