This article is more than 1 year old
IBM trades cold comfort for hot air in Microsoft-AWS slugfest
Feeling good about yourself in the cloud IBM? Oh, dear...
IBM is at it again. Earlier this year IBM claimed to be the world's largest cloud provider, trumpeting a $7bn cloud run rate. By conflating a variety of definitions of "cloud" (including, ironically, hardware), IBM hoped to earn itself a place on the cloud computing podium.
It didn't work.
And so, despite Amazon and Microsoft announcing tangible financial results that show the exact opposite, IBM is now flogging a Microsoft-sponsored 451 Research survey (PDF) which purports to show IBM "as the company most likely to win cloud business".
While that might make the folks in Armonk feel better about themselves, there are a number of reasons to be suspicious of the results.
IBM can be forgiven for dressing itself up in survey results that make it look good. That's marketing, right?
But even IBM (18 per cent of respondents declared it the "most likely to win cloud business" from them) must be wondering how it can score higher than AWS (6 per cent) and Microsoft (11 per cent), the two market share leaders. Nearly two years ago, Gartner analyst Lydia Leong found AWS to have five times the utilised compute capacity of the next 14 competitors combined.
IBM was one of those 14, which means its utilised cloud is tiny compared to AWS.
More recently Leong told me that AWS' market share lead has grown, not shrunk, in the past two years. Does that mean IBM's share is even punier than before?
Not if you accept 451 Research's survey results. Of course, if you click on the Bitly survey results link provided by IBM, the data it claims from the survey doesn't actually show up on any of the slides. I went through the deck several times, and can't find the numbers IBM cites.
The numbers that do show up, however, are even more outrageous, though not surprising: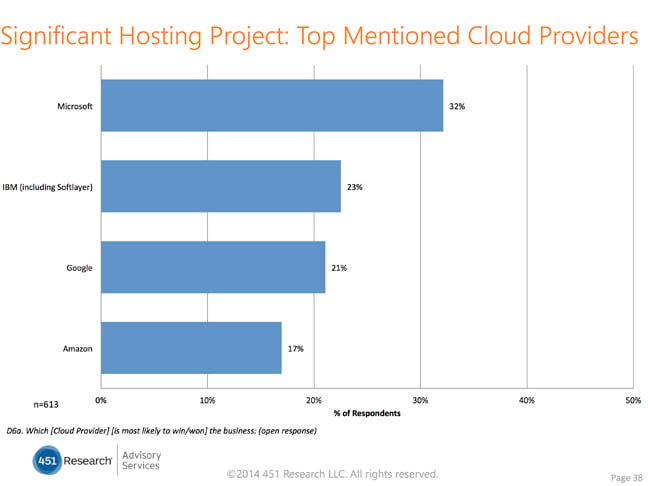 I say "not surprising" because the first thing to know about the survey is that these are Windows users. At least, that's my takeaway from seeing the companies Windows Server 2003 migration plans listed at the end of the deck.
Given that Microsoft sponsored the survey, presumably of Windows users (the survey offers no insight into the methodology), it would be shocking indeed if Microsoft didn't rank as the top cloud, and that IBM (a Microsoft service partner) didn't rank second. Much of the adoption on AWS is Linux, just as most cloud applications run Linux.
But this isn't the only demographic problem with the survey.