Microsoft has released a new Technical Preview build of Windows 10 Mobile – the version of Windows 10 for phones and tiny tablets – and in the process has given testers their first look at the new Office running on small screens.
The new version, which is only available to Windows Insider program members who have opted for the Fast release ring, is dubbed Build 10080 and is the first to include the beta version of the new Windows Store app.
That means the brave testers who install it have the option of downloading the new Office Universal Apps – the same ones that have been available on preview builds of Windows 10 for desktop PCs.
In an April blog post, Microsoft said it expected the Office apps to be available on phones "by the end of the month," so they're only a couple of weeks late.
"On a phone, the Universal apps adapt to the smaller form factor," Microsoft said. "Commands and controls are moved to the bottom of the screen so you can triage your work and make edits one-handed with your thumb."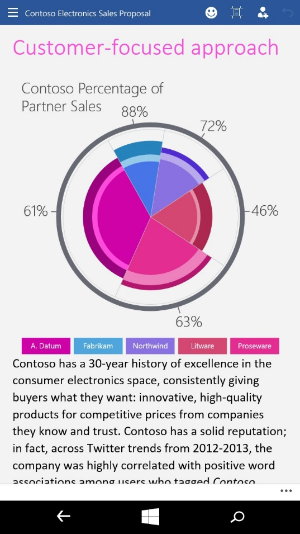 Office is HERE! Who needs a PC, right?
Also available in the Windows Store is the new Xbox app for Windows 10, which lets you use your phone to access your activity feed, achievements, friend list, activity alerts, and messages. You can also watch Game DVR clips and connect to your Xbox One, and Microsoft says it will add new features over the coming weeks.
New Music and Video preview apps are also available in the Store and will be updated with additional capabilities as time goes on.
There are even some paid apps that you can buy, but to purchase them you'll need a credit card, gift card, or PayPal. Although Redmond has promised that all Windows 10 devices will support carrier billing, that option is not available yet.
More phones ... and more bugs
As for the new Windows 10 Mobile build itself, the usual caveat applies. As Microsoft's Gabe Aul puts it in his latest blog post, "there will be some bugs that will affect your experience with it."
On the plus side, the new build supports a few more phone models, including the Lumia 640, 640XL, 930, and Icon, plus the first non-Lumia phone to be supported, the HTC One M8 for Windows (unless your carrier is Verizon – sorry about that).
On the minus side, after upgrading you might see duplicated apps, you'll lose any data and apps that you had installed on your SD card, and there's a bug that could mean you'll never receive incoming MMS messages. There are a number of other minor glitches and gotchas that you might notice, too, so check Aul's blog post for details before initiating the upgrade.
As for when we'll see a final, polished version of Windows 10 Mobile, Aul confirmed what Microsoft OS veep Joe Belfiore told The Register at the Build developer conference earlier this month: there's no hard release date, but we'll definitely have to wait until after Windows 10 launches for PCs.
"Because we're treating Windows more like a service, this allows us to release Windows 10 on different devices and customers at different times," Aul said. "And what you're seeing with phone builds today is that work in progress to tailor Windows 10 to be great on phones."
Happy bug hunting! ®
Similar topics