This article is more than 1 year old
Lightbulbs of the future will come with wireless extenders and speakers
IoT World conference has some illuminating ideas
IoT World 2015 There was a lot of clunky technology, standards fretting, evangelizing and platform promotion going on at the Internet of Things World 2015 conference in San Francisco this week, but a few bright ideas.
Sengled is a Chinese lightbulb manufacturer based in Shanghai with offices in Europe and the US and it has traditionally sold its products through resellers.
But it decided a few years ago that the internet of things represented a great new market opportunity and so has produced a range of five new lightbulbs that it is now selling direct.
As the general manager for Sengled USA, Alex Ruan, explained at the conference this week: "We can do much more with light bulbs than ever before."
The big promise of IoT products is that they can use the latest technologies to make our homes smarter and more efficient. A smart thermostat knows when you are out and how long it takes to heat or cool your house, saving money. Smartlocks mean you can let people into your house without having to physically open the door. Smart lights enable you to change the mood with the touch of a button. Smart webcams let you track what is happening in your home. And so on.
The big problems for IoT products are three-fold:
They have to be easy to use and easy to install
They have to constantly communicate without using much power
You have to be able to control them simply and easily
Looking at all these factors, Sengled has decided that the humble light socket is the answer to many of the problems. As Ruan explained: "There are 8.2 billion lightbulb sockets in the US. But using these sockets, we can leverage power and placement - the sockets are almost always installed in common areas. And everybody knows how to screw in a lightbulb."
So...
So what can you do with a smart lightbulb? The company has identified three ancillary functions: act as a speaker, a wireless signal booster and a camera.
The speaker function comes in the form of the Pulse bulb. It is an LED light encased in a red metal sheath with a speaker in there that works with Bluetooth (BLE). An upcoming version will also work with Wi-Fi.
One bulb is the "god bulb" and it can then work with up to seven other bulbs to play music from where you have a light socket. The two-bulb starter pack is $169.99 and additional bulbs are $49.99. The LED light is dimmable and the speakers provide 13 watts with a frequency range of 100Hz-20kHz i.e. an all-round speaker. You access it through a smartphone app.
We had a listen to the bulb to trying to figure out how good it was. But it was a busy conference floor so it was impossible to get any kind of decent read on the sound quality and we gave up. But we have asked the company to send a review model so we can test it out in a better environment.
Is this useful? Yes. When the Sonos system starts at $199 for its smallest speaker and requires plugging in and shelf space, Sengled's cheaper, simpler and more convenient product looks like a good bet. Decking out a house with eight bulb-speakers will cost less than one small and one medium Sonos speaker.
Of course, the sound quality is critical. It's highly unlikely that people will be using this for their TV surround sound system but in the kitchen, the bedroom, the bathroom? No extra wires and a lightbulb thrown in? Looks promising to us.
Boost
The next product is probably even more useful - again, if it works well. The Boost is a lightbulb and Wi-Fi repeater.
It costs $59.99 - which is at the higher end of the Wi-Fi range extender market (typically between $30 and $80). It does however have the benefit of being incredibly easy to install, doesn't take up a power socket and in many cases will achieve the Wi-Fi ideal state of being halfway up the wall to give a better signal.
The Boost has two built-in antennae, works with b/g/n Wi-Fi and offers 300Mbps throughput i.e. it's a typical Wi-Fi extender. Again, we want to test one to see how good it actually is but the concept is pretty incredible: you find a deadspot in your house, and replace the lightbulb nearest to it. Done. Multiple Boost bulbs will also apparently work together.
Camera
Which leads to third version: an IP camera contained in the Snap bulb. This one is intended to act as a security system as well as a bulb and will be available in the next few months for roughly $200, the company told us when we visited its booth.
Again, the specs are on a par with the current market DropCams and assorted webcams: HD 1080P; wide angle; voice and motion recognition; works on both 2.4GHz and 5GHz; real-time viewing and playback over your phone.
Again though, the advantages are: easy install, no extra space taken up. The one problem we can see with this bulb is that you may not have a lightsocket pointing in the right direction for what you want to achieve. Or you could end up shining a light in people's faces when the bulb is turned on.
We should note that each of the additional functions are controllable separately to the actual light - so you can have the light off but still have the speaker playing, wireless extended and camera on.
And then lastly there is the Element - which is in the pipeline but without a release date and will cost roughly $150. The Element is the same bulb but it is compatible with the ZigBee IoT protocol meaning that it will be compatible with the broader eco-system of IoT products and gateways.
We're not sure about this one - and why it would be worth $150. It seems as though the company is simply doing what many are doing in the space and experimenting with products to see what takes off - and having ZigBee built into its products is certainly a good thing.
Ruan argues that the products come with advantages over normal bulbs: they will report on how much energy they are using and how many hours they have been turned on. Something that early adopters will love, although it's not clear whether the average consumer would care that much.
Issues
As for gaps: there are a few. Currently there is no API for the bulbs, although the company says it will release one at some point so its bulbs can be made to work with other systems and products. It has also said it will work with all the emerging platforms: Apple's HomeKit, Nest, Samsung's SmartThings platform and so on.
There is also the very big question about whether these bulbs will fit in your existing light fixture. Many people don't like the fact that the newer green bulbs are typically larger and so can often poke out the top of light fixtures - and sometimes not even fit in. With all the extra hardware put into the Sengled bulbs, they are bigger than your average bulb.
That may be a big problem with adoption: buying a new light fitting for a bulb is definitely the wrong way around. And Sengled appears to recognize this as a problem, so at the end of Huan's talk he argued that the next step for the company was to go the way of Tesla and the iPhone and make beautiful design to go with their products.
He outlined some designs for lights shades and fittings. "We want to create really nice fixtures that touch the human emotion," he waxed lyrical.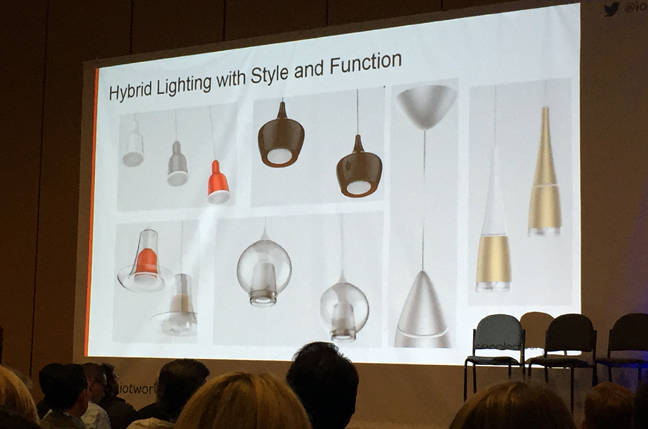 Of course trying to get people to buy a $50-200 lightbulb is going to be one thing; getting them to also buy a new light fitting at the same time, something else entirely.
Despite the possible pitfalls though, and giving the company the benefit of the doubt that the quality of their speakers and Wi-Fi extenders is good, this product range strikes us as one novel and useful area where the internet of things may start enter our lives in a real way. ®