The collection
The collection has a total of around 60 exhibits covering a wide range of microcars, from the early Isetta to more modern ones such as the Bond Bug, made by Reliant in the early 1970s. There are French, German, Italian and even Japanese microcars on show.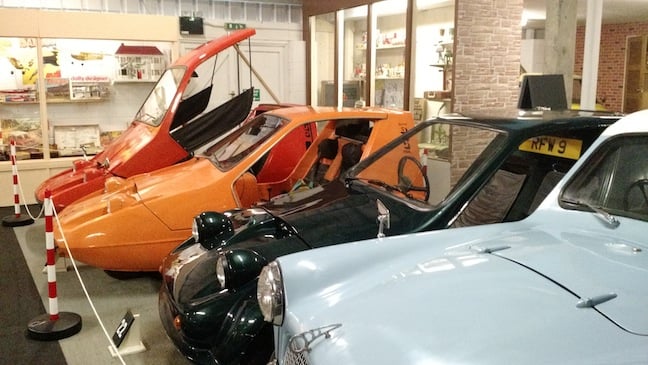 The Bond Bug was built by Reliant, creators of the Robin
For the most part, there's a bit of a feeling that the museum could do with more space. The exhibits are packed in right next to each other, though a few larger displays around the edge give a better opportunity to see some cars from more than one angle. If your idea of a microcar is just something like the Isetta, you'll probably be surprised by some of the British cars that look just like a small sports car, albeit with one less wheel. There's even a miniature caravan, too.
Although it's a little frustrating that some of the cars are so tightly packed, a sign does say that you can ask permission to get closer. Sometimes it's even possible to have a ride in one as well, for £10.
Upstairs, downstairs
While the bulk of the museum is on the ground floor, part of the collection is on a mezzanine level, and accessibility is limited; if you can't manage stairs you won't get up there. For those who aren't able to, a large TV near the entrance shows the upstairs exhibits.
The upstairs collection has a few more cars, including a particularly hideous Peugeot "sans-permis," which is based around a 49cc moped with a fibreglass body bolted on. Much of what's on this floor comprises mopeds, or based on them, in fact, including a few old British bikes such as the James Comet, and a Royal Enfield Prince.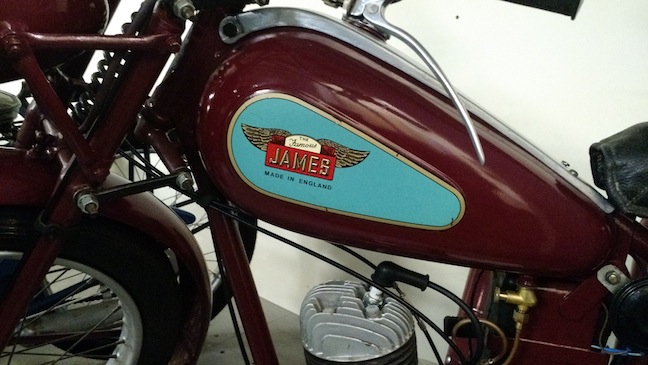 The upper floor shows a range of mopeds and bikes, including this James Comet
There's also a rather amusing Replicar Cursor, also powered by a moped and which is road legal. Made in the mid 1980s, this is probably one of the newest items in the exhibition. There is, perhaps, a whiff of the C5 about it, though it manages to be slightly less silly - even with the Pink Panther on the front.
A very peculiar place
As Elkie Brooks sang, "It's a long way from anywhere / you've ever been before." The Bubblecar Museum is not, it has to be said, somewhere that you're likely to stumble across by accident, and unless you happen to live close by, you'll probably have to plan a trip specially for it. There's a campsite at the museum and rally facilities. The annual rally on the 12th of June will likely see a lot more cars turning up.
It's around a hour's drive from the museum to Rutland Water, and, depending on the route you take, a visit could also take in the 1950s-style OK Diner on the A1 as well, and the Nene Valley Railway. So, I think those planning to drive a long distance would do well to plan around some of those other things – all but the most enthusiastic will likely find an hour at the museum sufficient. Still, if the last Bank Holiday weekend was a damp squib, a detour to the museum may well delight old and young car enthusiasts alike.
Have you ever seen a bubblecar that is pink? Think!
It may be a little cramped, and it would be good to see the story of bubblecars placed in a wider context, showing modern things such as the G-Wiz, Smart and the Twizy. However, if you like cars – especially quirky ones – the Bubblecar Museum is a most unusual collection to visit.
Where:
Bubblecar Museum
, Clover Farm, Main Road, Langrick, Boston, Linc, PE22 7AW
Opening hours:
1000-1700, Fri, Sat, Sun and bank holidays
Entrance:
Adults £3, children £1, guide book £1
Time:
Allow 45-60 minutes
Contact:
01205 280037