Review Ok, so let's get this out the way quickly: this updated Roku 3 is the best streaming player on the market right now.
And it will most likely remain the best on the market until the Roku 4 arrives toward the end of the year. And yes, that includes the Apple TV fourth generation that everyone expects to be this 2015's pant-wetting announcement at the June WWDC.
Despite efforts by big beasts Amazon (Fire TV) and Google (Chromecast), the smallest company in the streaming universe is alive and well because it remains stubbornly ahead of its rivals.
However Roku is getting nervous as the idea of cable cord cutting stretches further into the mainstream. Which is why this is the "new Roku 3" rather than the Roku 4.
The company was due to have Roku 4 out by now and everyone expected it to come with leading-edge 4K picture quality. Instead we have the "updated 3". Did the number "4" symmetry become too much? Did Apple TV's hotly anticipated next model cause Roku to put out a new "3" just to keep ahead of the game?
This is the sort of thing that keeps executives up late at night but the good news for consumers is that this drama keeps causing better and better products to appear on the market.
Get to the nub of it
So what is the different in the new and old Roku 3? Four things: voice search; a new remote control; a hardware upgrade; and software tweaks.
The voice search is why the Roku 3 is worth getting. It works, and it works really quite well. You press a single button on the new remote, speak the name of the movie or show and it takes you straight to a screen whether the various options for watching it are outlined. One click and you're there.
This is a huge boon to people sick and tired of having to use the clunky keyboard approach to finding something. We tested it with a range of titles, including some odd ones like "Papillon". It worked nearly every time. Oddly though the software had a hard time with kids' voices.
This feature also highlights the Roku's big market advantage, and the reason it still leads the market against three tech giants: it is content agnostic. It is not trying to push iTunes, or Amazon Prime; Roku has no skin in the game when it comes to content.
And so apart from Apple, which refuses to let it include an iTunes option, Roku has an open doors policy to content – which means a huge array of possible channels than you can add or remove at will (unlike Apple TV which adds and removes channels however Apple fancies). There are apparently over 2,000 channels to choose from.
That means that when you search for something, it will bring up that title in every outlet available and show you the price for each. So a search for Interstellar will tell you that the movie is available from Amazon Prime from $3.99; Vudu from $3.99; MGo from $4.99 and CinemaNow from $4.99.
A single click and away you go. Oddly, though, it doesn't search Google's Play service, which makes us wonder whether companies have to pay Roku to be allowed in its search function.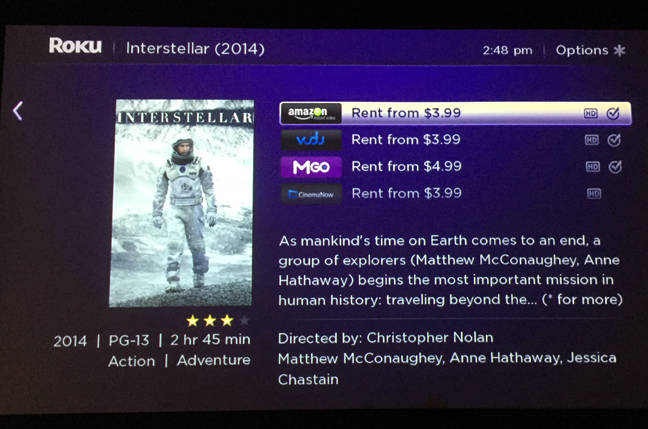 The speed with which this happens provides that happy feeling that the latest tech achieves. We can now stream HD movies in a matter of seconds.
Of course, you can do this with the old Roku 3, as well as the other streaming devices but the Roku 3's new hardware moves the process of starting a search to the movie starting from several minutes to just 30 seconds. It feels great.
Specs? Roku doesn't provide the full hardware specs but it does Wi-Fi a/b/g/n, it has Ethernet and USB and a MicroSD slot. It can do HD 1080p picture quality and 7.1 surround sound.