So far, so good
Ok, so it's faster and has a wider choice. What else?
The new remote. It has a function where you can plug in a set of headphones and the sound is cut off from your system and pulled just through the headphones.
This is a nice little feature. Where previously you would typically have a set of wireless headphones and have to select that output to feed the sound through them, the Roku does this for you. And the purple headphones that come with it are surprisingly good – they have the little rubber ear seals that higher-end headphones come with.
The remote does have significant downsides though. Because of Roku's business model, you have four extra buttons that link straight to companies that have paid extra to have it on there: Netflix, Amazon, Rdio and Hulu.
It's in Roku's and the companies' best interests and maybe some consumers like it, too – a quick button to a particular outlet. But for us, the fewer buttons the better. It's a commercial compromise we wish didn't exist.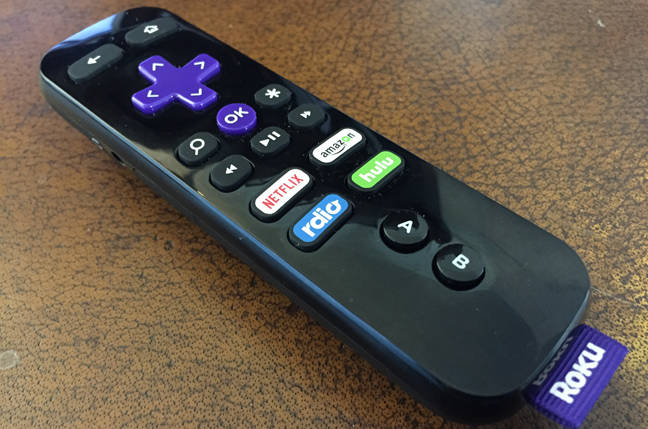 Look at all those lovely extra buttons that show the commercial compromises that have to be made to compete with tech giants
Likewise, the inclusion of MGo on the main Roku screen because the company has paid a lot of money to be featured upfront. Sure you can easily ignore it but it does tend to sit there, reminding you that there are deals constantly being done behind the scenes to get your attention and dollars.
The remote also has the ability to be used as a games console – it has the traditional A and B buttons and four-way controller that you hold horizontally. And it has an accelerometer, so you can use the control itself to do things like hurl Angry Birds. But the truth is that the games available and the style of control make the whole games feature not that useful. We wouldn't miss the games if they disappeared and the two extra buttons with them.
Get rid of all those extraneous buttons and you've got yourself a remote. Albeit one thicker and heavier and less lovely than the Apple TV's minimalist remote. So, yes, Apple still has this one nailed down.
Coming soon
And that brings us finally to the software tweaks. Roku seems very pleased with its new "Movies Coming Soon" feature which lets you select films that are currently in the cinema and put them on your "watchlist". You will then get alerts when they become available to view.
This sounds great in theory but in reality it is half-baked. You have to go into a specific space to see the coming soon movies, then you have to scroll through them.
You can't remove any you don't want to see again. You don't have the option to only select those ready to rent (rather than buy), and you can't select movies in any other way outside this space, i.e. you can't select American Sniper even though it is currently available to buy and tell the Roku "let me know when it's available for rent". Or select a film you like and tell Roku "let me know when this is on Netflix".
And that's the funny thing about the Roku: because it is constantly pushing at the envelope – more so that its competitors – it is both exciting and disappointing because you can see what else could be possible but isn't yet.
The Register actually ran into the man that would know what Roku's future plans are – the company's general manager of content, Steve Shannon – at the recent Collision conference in Las Vegas. He was due on stage 10 minutes later but nervously agreed to meet us after the session to discuss Roku's future content plans. He never showed and instead got his PR man to email us later that day: highlighting just how jumpy the company is.
Shannon was probably expecting us to ask when the Roku will also get HBO Now – the app that lets you get HBO without a cable deal but which Apple TV has exclusively at the moment. He'd have been right. Or when the Roku 4 was finally coming and whether it would have 4K picture quality. He'd also have been right.
But the conversation we wanted to have was: how do you make the Roku a more personal experience. Because that is what will keep this doughty company ahead of the competition: by simply being a better device.
Vudu has the best search mechanism by far for those looking to browse possible programs because it lets you search far more than just Genre. You can search by Mood or Rating or Plot or Style or Era. Netflix has probably the best system for recommending things based on what you've already watched.
If the Roku can start to assist people in finding what they might be interested in, rather than just (very efficiently) helping you get to what you have already decided you want to watch, then that is a market-leading product and one that would tie in a consumer as we move to the fifth generation of streaming devices.
Finding that content
We're sure that there are lots of things on the other 1,990 channels that Roku provides that we'd be interested in seeing. But without a way of showcasing them, they will hardly ever be found. We're sure that those channels would pay a higher percentage of their income than, say, Netflix, if Roku could pass them hundreds of thousands of new customers.
And that is another aspect that the Roku can build on: logging into the apps. It's fine the first time for the first app. Input your email addresses (tapping out every damn letter) and your password and you're in.
But doing it all again for the next app? And then all over again for the third app. And then if you want to try out a new channel, doing all that again plus the extra signing-up step. This is a huge pain. If Roku's market position is reliant on offering more content than everyone else, it needs to make it less painful to get at that extra content.
These are niggles that we hope get fixed in the Roku 4 and the Roku 5. But in the meantime, the updated Roku 3 is simply the best out there. Oh, and its iPhone and Android apps are much better than the competition too.
The Reg Verdict
If you want a streaming device between now and November, this is the one for you. Unless of course you are an Apple fanboi but then you were going to buy the Apple TV anyway. ®

Roku 3: Probably the best streaming player on the market ... for now, at least
Best in the market – but probably only until the end of the year. Very fast, slick, a great new voice search tool and loads of content. Some commercial compromises, though.