The Harder They Come, Hunters in the Dark and Fall of Man in Wilmslow
T.C. Boyle, Lawrence Osborne and a Turing tale with a twist
---
Page File El Reg bookworm Mark Diston reviews the latest from the literary world with T.C. Boyle observing the saints and sinners at roots of American gun violence. Lawrence Osborne tells a gripping tale of expats adrift and running amok in Cambodia, and David Lagercrantz delivers a curious conspiracy in his fictional take on events in the aftermath of the death of Alan Turing.
The Harder They Come
Tom Coraghessan Boyle is an American writer with 14 novels under his belt. The Harder They Come is a story set mostly in California and the three main characters are sensitively drawn portraits from the spectrum of the conservatively inclined: namely, a retired special forces man, an independent libertarian woman and a complete wingnut.
Sten Stensen is a retired Marine on holiday with his wife Carolee in Costa Rica, when their tour party is held up by armed youths. Sten is pushing seventy, but his training kicks in and he disarms the ringleader and throttles him to death.
Boyle evokes the sights and sounds of Central America with aplomb: "There was the smell of the sea, tepid and redolent of small deaths."
When Sten returns home to California, he is fêted as a reluctant hero by the media.
Sara Hovarty Jennings is driving her vehicle with no seatbelt when she is pulled over by the police. She claims to have no contract with the state of California, but both her dog and vehicle are impounded. Kutya, her dog, has no rabies certificate, so is taken into quarantine, though she manages to retrieve her motor.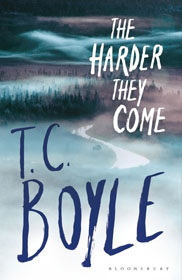 She picks up a hitchiker, who turn out to be Adam, Stensen's son. He is a survivalist and off his meds – he thinks he is the reincarnation of a long dead mountain man called Coulter. They conspire to rescue Kutya and embark on a sexual relationship.
Sara has a confidante called Christabel who mainly serves as a sounding board for Sara's feelings towards Adam: "Was she one of those people, women for the most part, who just talk to round out the sonic spectrum?"
During the course of the novel Sara and Adam become radicalised, while Sten just gets to feel old. Adam is an accident waiting to happen, with his eyes "beaming out all kind of lethal rays that could have dissolved flesh and stone alike." Of course, disaster strikes.
What is most unusual about this book is how sympathetically treated the main characters are. With literary fiction overwhelmingly written by left-leaning authors, too often conservative characters are reduced to ciphers and clowns. Boyle skilfully gets under the skin of his creations and unearths their motivations.
For instance, here is Sara, watching an old movie on telly: "Jimmy Stewart, Gary Cooper, take your pick – made all these stirring declarations about democracy and standing up for the little man… took her back to a simpler time, a time before the corporations had taken over and made a mockery of everything."
The Harder They Come is not a brilliant novel but it is certainly a very good one. T. C. Boyle has succeeded in humanising characters we too often see portrayed as clichés and cartoons.

Author
T. C. Boyle
Title
The Harder They Come
Publisher
Bloomsbury
Price
£18.99 (Hardback), £16.99 (eBook)
More info
Publication web site