The Harder They Come, Hunters in the Dark and Fall of Man in Wilmslow
T.C. Boyle, Lawrence Osborne and a Turing tale with a twist
Hunters in the Dark
Lawrence Osborne is a British novelist who has resided abroad for many years. Hunters in the Dark is his fourth novel and is the story of a young English teacher, Robert Grieve, who crosses the border from Thailand to Cambodia and wins two thousand dollars gambling.
He's reluctant to return to the UK and a life which is going nowhere: "You drifted through the days and nights and you forgot about the European Union and the Council Tax and the first grey hairs on your brows."
Grieve embarks on an aimless adventure. He encounters a dodgy American, Simon Beauchamp, who drugs him with opium, steals his passport and winnings and puts him on a boat bound for Phnom Penh, dressed in one of his own suits, with a hundred dollars in the pocket.
He arrives in the Cambodian capital and seems to fall on his feet. Grieve is engaged by a local doctor to teach his daughter, Sophal to speak better English. It turns out that Sophal's English is near perfect and she and Robert embark on an affair.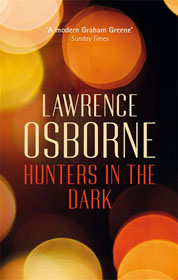 Meanwhile Beauchamp and his girlfriend, Sothea make away with their ill gotten gains, pursued by Grieve's Khmer driver. We're only a third of the way into the book when we're faced with a body and a corrupt cop, who pockets the passports and funds before heading off to Phnom Penh intent on putting Grieve in the frame.
Lawrence Osborne's writing is reminiscent of other expatriate authors adrift in exotic places. He himself mentions Malcolm Lowry and William Burroughs in this text. You could add Paul Bowles to these names and though Lawrence Osborne's prose is slightly less delirious and original than his predecessors, he is a writer of unusual ability. Here he describes the post-imperial status quo:
"But white people are remarkable – they love charging around on crusade, saving everyone. The carpet bombing and the missionaries and the NGOs – all unconsciously connected."
The character paths cross and double cross each other en route to a denouement which is a little contrived, but that is missing the point. Hunters In The Dark is a literary rather than a genre novel, so how it happens is more important than what happens. Lawrence Osborne's evocation of South East Asia is wonderfully observed and well written, the asides are understated yet impressive: "The cats sat erect and sarcastic under the yellow flamboyants."
Lawrence Osborne is a welcome throwback to an earlier age, it is very easy to compare him to expatriate writers of the fifties, in fact Graham Greene and Patricia Highsmith are mentioned in the book's blurb. But as I mentioned earlier, Osborne is more of a maverick individual than them.
While Hunters in the Dark is not of the quality of the great expat novels of the post-WWII era, such as The Sheltering Sky, Queer or Under the Volcano, it still is an excellent evocation of a drifter adrift in foreign climes and is a rare work indeed in these more globalised and very different times.

Author
Lawrence Osborne
Title
Hunters in the Dark
Publisher
Vintage Publishing
Price
£12.99 (Hardback), £8.98 (eBook)
More info
Publication web site