The Harder They Come, Hunters in the Dark and Fall of Man in Wilmslow
T.C. Boyle, Lawrence Osborne and a Turing tale with a twist
Fall of Man in Wilmslow
David Lagercrantz is a Swedish writer and the author of three previous novels. Fall of Man in Wilmslow is his first to be translated into English. It is set in 1954 and tells the story of Leonard Corell, a detective who is assigned to look into the death of Alan Turing, the legendary computing pioneer.
The novel opens at the very end of Turing's life as he is brewing up the potassium cyanide with which he killed himself: "The man's life consisted of too many numbers and secrets. He was different."
The first scene fades out just before the fatal dose.
We are then introduced to Detective Leonard Corell, whose investigation unearths Turing's biography in retrospect. In the wake of The Imitation Game, the biopic of Turing starring Benedict Cumberbatch, the first question which arises in my mind is: Does this book add more Sherlock shit to the Turing story?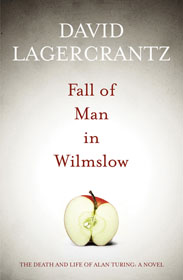 As with the The Imitation Game, Lagercrantz's Corell is a fictional copper. This book is not so much a whodunnit; it is, to paraphrase Marianne Faithfull, more of a why d'ya do it?
Corell is a complex character, a public schoolboy fallen on hard times. He has a dykish Aunt Vicky – who appears to owe a lot to Radclyffe Hall – who opens his mind to queer culture.
The author, being a Swede born eight years after Turing's death, reveals a certain lack of local knowledge, which at times is detectable. There are no regional accents apparent in Wilmslow or Manchester. The author seems to have some first-hand experience of Cambridge. It has changed much less than Wilmslow – then a sleepy market town, now a haunt of WAGS and the like.
David Lagercrantz has evidently undertaken a fair amount of research into this book, used to highlight Corell's increasing fascination with Turing and his dogged investigation into the secrets surrounding his death that ruffle feathers. However, there are a few errors showing through: the General Strike is shifted forward a decade; Corell drinks imported lager before the end of rationing; and you would have to look very hard to find ospreys in Southport, even in the Fifties.
There are a few bizarre aesthetic kinks as well. Here is one of Corell's little peccadilloes: "Ornate desks always aroused a sense of longing in him."
Unlike The Imitation Game, this novel does not play down Turing's homosexuality, nor does it make his relationship with his fiancé Joan into a central part of the story. Fall of Man in Wilmslow is not a bad book, nor is it a terribly good one. It does rather stumble between the known facts of Turing's life and where there are no details we tend to get stock historical interludes – Doris Day, The Rosenbergs and Burgess and Maclean all lurk in the shadows.
Ultimately, this book fails exactly where The Imitation Game did, it fictionalises a dead luminary to endorse a fanciful new product, and in this case you don't even get the eye candy of Benedict and Keira as compensation.
I would advise anyone interested in an authentic public school, post-war English gay voice to go straight to the works of Denton Welch, who captures the angst and aesthetics of the time so much better than this. ®

Author
David Lagercrantz
Title
Fall of Man in Wilmslow
Publisher
MacLehose Press
Price
£18.99 (Hardback), £9.99 (eBook)
More info
Publication web site