This article is more than 1 year old
Google Google GOOGLE! Cloud cloud CLOUD! These prices are insane!
Act now to get your cheap computing fix at the Chocolate Factory
Google is cutting prices on its Cloud hosted computing service.
The Mountain View Ad server said it would be offering lower prices on cloud compute instances and virtual machines.
Under the new pricing model, cloud compute instances will be cut anywhere from 5 per cent (high CPU instances) to 30 per cent (micro CPU instances)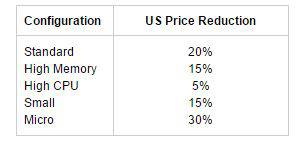 The price cuts in full
"Many factors influence the total cost of a real-world application, including the likelihood of design changes, the rate of decrease of compute prices, and whether you've been locked into price contracts which are now above market rates, or on instances that don't fit your current needs anymore," Google said in announcing the move.
"With Google Cloud Platform's customer-friendly pricing model, you're not required to make a long-term commitment to a price, machine class, or region ahead of time."
Google is also offering a new option for standard VM instances. Dubbed ' Preemptible VMs', the new service will allow users to set up a standard one-node Vm for $0.015 per hour. The service will utilize idle compute nodes during low-activity hours, a feature that Google credits with helping to keep the cost of the service down.
The new pricing could also help Google Cloud compete in the hosted computing arena with the likes of Amazon Web Services, Google's chief rival in the cloud space. The two firms have long been locked in a pricing war looking to gain a stranglehold on the virtual computing market, though the contest is taking its toll on the two web giants. ®