This article is more than 1 year old
Can Barracuda become the big fish in a small cloud?
We're sticking to the profitable territory, says CEO
Interview It was a rare surprise when Bill (BJ) Jenkins left his position as boss of EMC's Backup Recovery Systems division to become CEO of Barracuda. Barracuda?
That was in late 2012 and since then Barracuda has grown, with annual revenues from full-year 2012 to 2015 increasing steadily: $161m, $199m, $234m and $277m in successive years.
Jenkins thinks Barracuda can and should reach a billion-dollar revenue level by 2020.
Here's a potted history and some background info:
Barracuda was founded 2003 with anti-spam and virus firewall
$40 million funding in January 2006
Back-up service to the cloud announced in November 2008
Acquired Yosemite and its back-up tech in January 2009
Founding CEO Dean Drako resigns in July 2012
BJ Jenkins becomes CEO in November 2012
Barracuda IPOs in November 2013, raising $75 million
Barracuda is a security and data protection company that (largely) sells subscriptions to, and has a close focus on, the enterprise mid-market.
Its target customers have smallish IT departments run by IT generalists who don't have the time or resources to specialise in security, storage or any other IT discipline.
Their job is to support the business and they like to buy from suppliers who can provide end-to-end products and services with responsive and competent support and skilled channel partners.
They are, in Barracuda's view, moving irreversibly to the cloud, with more and more of their applications being cloud-based. Office 365 is the prime example. They will have a mix of on-premises IT gear and public cloud services at the moment without having their on-premises gear being totally virtualised. They are generally not all-VMware shops, for example.
Barracuda supplies a portfolio product set of security, data protection and file sync 'n' share products which are appliance-based and are moving to the cloud as well. Not all the way, though. Thus Barracuda Copy (sync 'n' share) has its equivalent CudaDrive cloud file sharing service.
This is not your average storage or backup company. It isn't like Veeam for example, nor Acronis, Assigra, Code42, EMC, Symantec or Unitrends.
We sat down with BJ and asked him some questions about Barracuda. The interview has been edited for conciseness.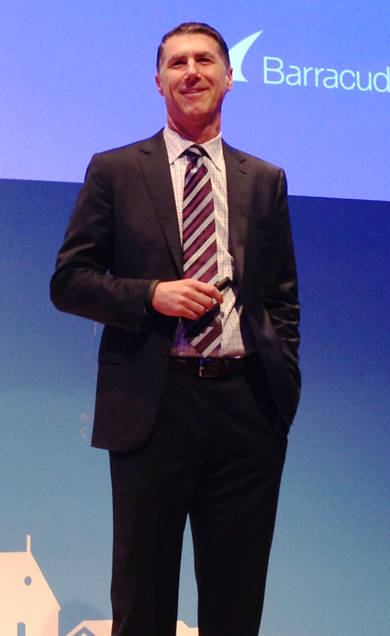 BJ Jenkins
El Reg: Can you talk about Barracuda and Cuda branding?
BJ: It's a naming framework we are putting in place. For a physical or virtual on-premises and connected-to-the-cloud product, we'll prefix it Barracuda. For a cloud service we'll call it Cudaxxxx; hence Barracuda Copy and CudaDrive.
El Reg: With its combination of storage and security, is Barracuda a kind of Symantec-lite?
BJ: We like to think we're more. We play in more elements of the security market. We always take the appliance delivery model from day one – Symantec being mainly software. We have a common management approach and I would rather look at us as Symantec done right.
El Reg: With Symantec splitting into separate security and storage companies, and RSA being a small player in EMC's portfolio, are storage and security complementary?
BJ: Yes, and for many reasons. Our initial mid-market customers had responsibility for security and storage. Common hardware and management appealed to them. Now we have email archiving and so forth. Some customers wanted to solve a standalone problem and then look for add-ons. A validation for us is that multi-product use is growing faster. The customers see the value.
El Reg: Can you describe the reasoning behind the big non-cash tax charge that affected the recent results?
BJ: This a completely non-cash thing. Accountancy rules concerning GAAP profitability say that if you're not profitable for three years in a row you have to write off this amount. Other SaaS companies have had to do this [such as] Salesforce."
El Reg: Will there be more acquisitions?
BJ: We try to be prudent stewards of our capital [and] we have a filter process for how we do acquisitions. We need a potential purchase to fit in our common hardware and management model and be an SaaS offering. The focus is, first, on anything that can help us in the public cloud and, second, on anything our customers say provides added value in segments adjacent to storage and security. For example, with CudaSign what gets signed gets stored.
Thirdly, in the legacy space we try to consolidate our share. If it makes financial sense we would look to consolidate there.
We also look for people that will fit in with the Barracuda family.
El Reg: Will Barracuda move beyond data protection into the general storage area?
BJ: No, I don't think so. Our storage product offerings are consolidated in data protection and the cloud. We don't see ourselves moving into primary storage on-premises. It's highly competitive and the margin structure doesn't fit.
El Reg: You are the board for Nimble Storage. Will technology like its InfoSight be implemented by Barracuda?
BJ: If you look at our tools, we continue to enhance what we have. The NG (Next Generation Firewall) roadmap has reporting and insight additions coming. Splunk has been added. You will see us partnering with Splunk and other analytics companies and we'll continue to enhance our own tools.
El Reg: Can you describe Barracuda's own cloud?
BJ: Our cloud started with security monitoring. We would do signatures and analysis in our cloud and update clients every 15 minutes or less. Barracuda has data centres in colos around the world. With back-up, we wanted an end-to-end offering and used the security cloud for offsite replication.
We bought Bitleap in 2009 and so obtained compression and deduplication technology...We are not an AWS or Azure competitor [as we offer a dedicated service]. You can have disaster recovery locally by spinning up a VM and pointing it at a back-up in our cloud.
El Reg: Does Barracuda have any interest in Big Data?
BJ: We have to wait until we see large use cases. We'll do Splunk integration for larger customers – this is where you will see Big Data integration. The reality is that we have a treasure trove of information in our cloud from mail. Down the road, customers will want to analyse it.
El Reg: Are the days of the stand-alone backup supplier over?
BJ: Backup is a universal problem. Technology drivers such as physical-to-virtual servers, the cloud, and mobility have given rise to multiple experiences [and suppliers]. They can't keep growing. Symantec, the single largest player, really missed a couple of trends, [so] I don't think all these companies can survive.
El Reg: Barracuda is a cautiously aggressive company that is growing steadily, with revenues likely to accelerate, happy customers eager to buy more products and a channel eager to sell them. This is not your traditional SMB back-up supplier, as backup was an adjacent market entered by the original Barracuda security business.
It's not surprising that other adjacent markets are being entered as well, the company management not being dyed-in-the-wool security or backup people. In every way, Barracuda looks to be a trusted company, and that extends to its financial record, which looks to exhibit prudently ambitious growth: no fireworks, do drama, just firm and directed control. ®