You've come a long way, Inkscape: Open-source Illustrator sneaks up
The big BUT in Adobe's graphics subscription toll
Inkscape recently released version 0.91 of their eponymous open source vector graphics application.
As version numbers go this sub version 1.0 milestone is underwhelming, but – and it's a big "but" – it is the result of four plus years hard work that's paid of by delivering a major leap forward for the would-be Adobe Illustrator competitor.
Inkscape is available on Windows, OS X and Linux, but it feels most at home on the latter where it has become the de facto vector graphics app.
But here's the rub: Inkscape might well take a backseat to Adobe's Illustrator in terms of popularity on Windows and OS X, but, with Adobe moving to subscription pricing, the more budget-minded graphics professionals (and anyone who does not want to deal with the onerous process of installing and licensing Adobe subscriptions) might want to take a closer look at Inkscape.
Moreover, it's in the vanguard with GIMP of what could – finally – be shaping up as a credible alternative to Adobe, freeing us from the mental (and growing fiscal) lock that one relatively small company holds over digital creative types.
Graphics professionals working on Linux invariably turn to Inkscape and GIMP depending on whether they're working with vector or raster graphics.
Version 0.91 doesn't have full feature parity with Illustrator and, if you work in an environment where the .ai file is ubiquitous, Inkscape might not be the best choice, but Inkscape .91 is a massive and very welcome update nonetheless.
The biggest news in Inkscape .91 is speed. While Inkscape has been competitive with Illustrator in the features department for some time, previous versions suffered from two major shortcomings: they were slow and buggy.
Fortunately the current release has been improved on both counts to the point that Inkscape .91 is almost unrecognisable from its predecessors.
Most of the speed improvements come from two significant changes. First, this release is multi-threaded, which means much faster rendering with filters. Second, Inkscape 0.91 includes a new renderer based on the Cairo graphics library. The multi-threading support comes from OpenMP and, assuming you have a multi-core system, will make working with large, filtered SVG objects much faster.
The previous release of Inkscape is almost four years old and was – frankly – pretty buggy. While it rarely crashed on me, it was prone to strange glitches. Four years gives you a lot of time to fix bugs and the Inkscape developers have done just that – more than 700 have gone in this release. In my testing all the strange behaviours that plagued Inkscape in the past are also gone – at least, they are on Linux.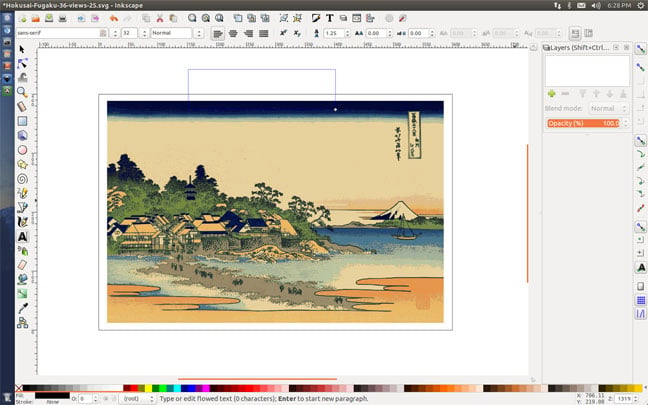 Creating illustrations in Inkscape .91
While the bug fixes and performance improvements are welcome news in and of themselves, there are plenty of brand new features in this release. There's a new Measurements tool that will live update the length of objects and angles as you move the mouse over them. The Text tool has also been significantly improved. The Text tool now defaults to points (pt) though you can change that to pixels, centimetres, inches and others, including the web-centric em. Even better, the em support actually works in this release, which should be a boon for anyone working with graphics destined for responsive websites.
Inkscape .91 has another nice new feature for web professionals – illustrations can now be exported as HTML5 Canvas elements, making them much easier to put online thanks to web standards.
This release also features support for font faces beyond bold/italic and improved support for file formats created by other apps. Inkscape now works pretty well with Corel DRAW, EMF, and WMF files and even has support for Microsoft Visio diagrams.