This article is more than 1 year old
Get another loan, fanbois, the new MacBook Pro and iMac are here
Retina 5K gets crammed into latest Jony Ive desktop
Apple has updated its MacBook Pro and iMac lines with improved hardware specs and sharper displays, and the usual four-figure price tag.
"The response to the new MacBook and updated 13-inch MacBook Pro with Retina display has been amazing, and today we are thrilled to bring the new Force Touch trackpad, faster flash storage, and longer battery life to the 15-inch MacBook Pro with Retina display," said Apple marketing boss Phil Schiller in a canned statement.
Cupertino is equipping its high-end 15in notebook with the Force trackpad introduced in the 13in MacBook Pro earlier this year. The new MacBook Pro will also sport a faster SSD drive, improved graphics hardware and what Apple reports as a 9-hour battery life, as well as its 15in Retina display.

Behold, the new MacBook Pro
For those who still prefer a desktop, Apple is also looking to revamp the iMac line. The new 27in model will sport a 5K display of 5120 x 2880 and a 3.3Ghz Intel Core i5 processor. The desktop also sports an AMD Radeon R9 M290 graphics chip, 8GB of RAM, and a 1TB HDD drive.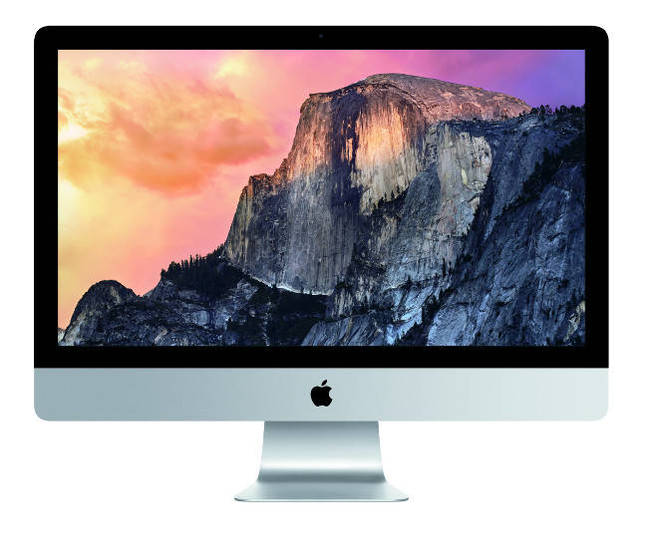 It runs Yosemite. Really subtle, Apple
The new iMac will start at $1,999 for the bare-bones model. The top model, sporting a 3.5Ghz Intel chip, will run you at least $2,299. The new MacBook Pro, meanwhile, will cost a measly $1,999 for the 2.2 Ghz model with 16GB RAM and 256GB of flash storage. The upgraded 2.5Ghz model with 512GB of storage will run you at least $2,499.
Lost in the hoopla of the new MacBook Pro and iMac releases was the introduction of a new iPhone accessory. Apple will now offer a $40 Lightning dock to charge up the wide-framed iPhone 6 and 6 Plus models.®