This article is more than 1 year old
Public cloud? Two vendors float on high, says Gartner
AWS leads, but Microsoft still a clear second
Gartner's latest report on Cloud Infrastructure as a Service (IaaS) places just two vendors in the coveted top right "Leaders" segment of its "Magic Quadrant" chart.
The research and analyst firm presented the report at its Infrastructure, Operations and Data Center Summit in Sydney yesterday.
Those two are Amazon Web Services (AWS), which comes top for both Ability to Execute and Completeness of Vision in Gartner's analysis, and Microsoft, in a clear second place.
The others languish in the lower half, with most relegated to the bottom left corner. Google Compute Engine is in third place. Overall, these three vendors run most cloud workloads, says Gartner.
What are the top two doing right? AWS benefits from its scale and maturity in this market. According to Gartner, it has "over 10 times more cloud IaaS compute capacity in use than the aggregate total of the other 14 providers in this Magic Quadrant".
AWS is the safe choice, says Gartner, though it warns that AWS is a complex vendor to manage and that its habit of developing products that compete with its partners is creating "ecosystem conflicts".
Microsoft's Azure cloud is praised for its aggressive roadmap, scale, and its combination of stand-alone cloud services and the ability to interoperate with on-premises systems. Gartner believes though that full enterprise functionality will not be there until 2016, and cautions that customers are concerned about the impact of past outages.
Google was a late entrant to the market, says Gartner, and "in the rudimentary stages of learning to engage with enterprise and midmarket customers". Even so, it benefits from the ability to expose already-developed internal technology to its customers, and is strong on price/performance and fast VM provisioning.
IBM SoftLayer scores well on vision but not on execution. It has a broad portfolio of products and services, Gartner reports, which will be strategic to the company.
Currently though, it suffers from relatively small scale, according to the report, which calls it a "hosting-scale provider" in contrast to the "hyperscale market leaders."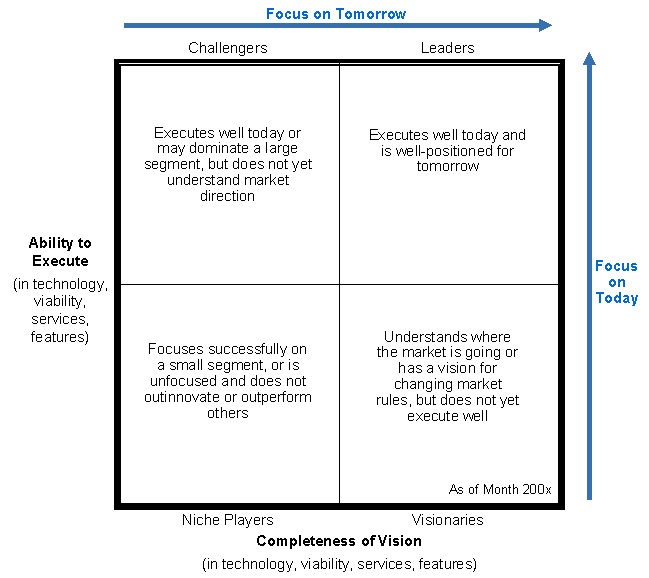 One of the Magic Quadrant charts, with the the top-right position visible
There are also technology issues. SoftLayer has its own API with limited third-party support, but a transition to OpenStack (already available in beta) will be disruptive. The range of services is limited and customers say it "feels like a small-business experience", says Gartner.
VMware's vCloud AIr, its public cloud offering, scores highly for its virtualization technology and is recommended for those extending existing VMWare environments. Gartner observes though that VMWare administrators, who form the target market, are already invested in on-premises solutions and may block adoption. The vCloud Air ecosystem is weak, says Gartner.
The full report covers 14 vendors and is available here (subscription required).
HP featured in previous reports but has now been dropped. "It no longer has sufficient market share to qualify for inclusion," the analyst says.
Gartner estimates that global IaaS spending will hit nearly $16.5 billion in 2015 and forecasts 29.1 per cent annual growth between now and 2019. Some 83 per cent of CIOs see cloud IaaS as an option, according to Gartner's latest CIO survey, while 10 per cent regard it as the default choice for new infrastructure. ®