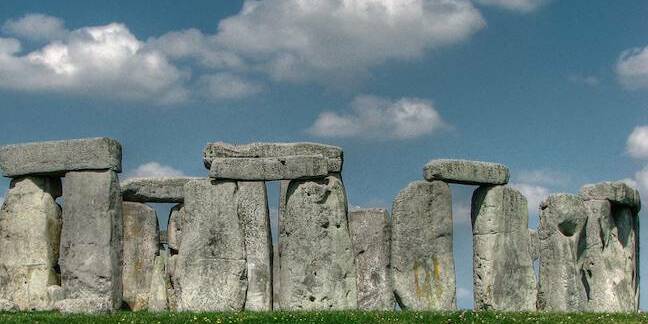 The European Space Agency (ESA) has released images of what it's cautiously calling "an unusual formation of boulders in the Aker region on the large lobe of Comet 67P/Churyumov-Gerasimenko ... reminiscent of so-called 'balancing rocks' on Earth."
The three stones, depicted below, appear to be have a rather small footprint. So while one is 30m across at its widest point, the ESA says it "... stands out as having only a very small contact area with the comet's surface. It also seems to be perched on the rim of a small depression."
Such stones are curiosities on Earth, often caused by erosion or when glaciers shunt stones into odd spots.
ESA boffins know that interpreting images captured by the Rosetta craft's OSIRIS camera is tricky, because while its images can be lovely all manner of perspectival issues mean one must take great care to interpret the results. Even though the last image in this story was captured from a distance of 29 km and boasts a resolution of around 0.5m/pixel, the ESA isn't sufficiently confident to say the boulders picture are balancing stones.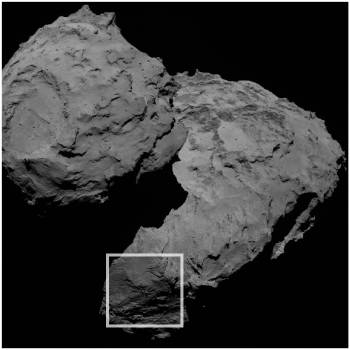 The three curious boulders are found in the Aker region of Comet 67P/C-G, on the comet's large lobe (in the centre of the region outlined).
Credits: ESA/Rosetta/MPS for OSIRIS Team MPS/UPD/LAM/IAA/SSO/INTA/UPM/DASP/IDA
But the agency is confident enough to float the idea they might be balancing stones. Or at the very least an intriguing cosmic oddity.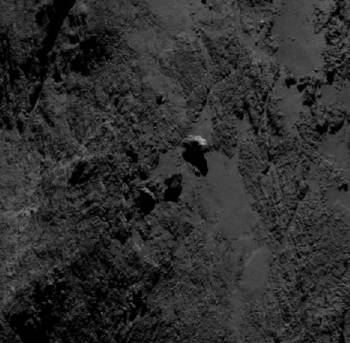 Image of the boulders taken by OSIRIS on 19 September 2014 from a distance of about of 29 km. The image scale at this distance is about 0.5m/pixel and the image measures about 285 m across. Boulder 3 measures approximately 30 m across.
Credits: ESA/Rosetta/MPS for OSIRIS Team MPS/UPD/LAM/IAA/SSO/INTA/UPM/DASP/IDA
The ESA's post makes no mention of space druids hauling the rocks into place, preferring to suggest that "transport processes related to cometary activity played a role, causing such boulders to move from their original site and reach a new location." ®
Sponsored: Webcast: Ransomware has gone nuclear