QLogic, a storage networking adaptor vendor, is escaping the sagging Fibre Channel host bus adapter (HBA) revenue trap by focussing on fast Ethernet and adding in-line data reduction, availability and encryption services.
Analyst haus Stifel Nicolaus' MD, Aaron Rakers, sees QLogic ramping up its 10GbitE products, with 25/50/100GbitE ones coming. QLogic says it has a time-to-market lead with 32Gbit/s Fibre Channel adapters which should ship early next year.
QLogic revenues are looking healthier than they have done for a while. Fourth fiscal 2015 quarter revenues of US$133.2m were 15 per cent up on a year ago ($115.7m) with profits of $11.1m; a positive turnaround from the $46.8m loss back then. It has 105 16Gbit/s design wins of which only 26 are shipping.
There's plenty of life in the old Fibre Channel dog yet, although the server-attach market is flattish.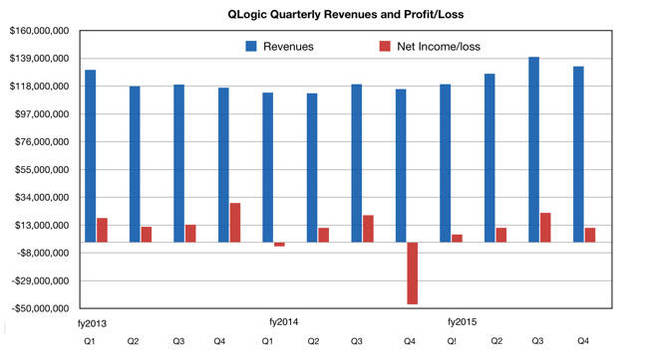 QLogic quarterly revenues and net income/loss to Q4 fy2015
The annual picture is here: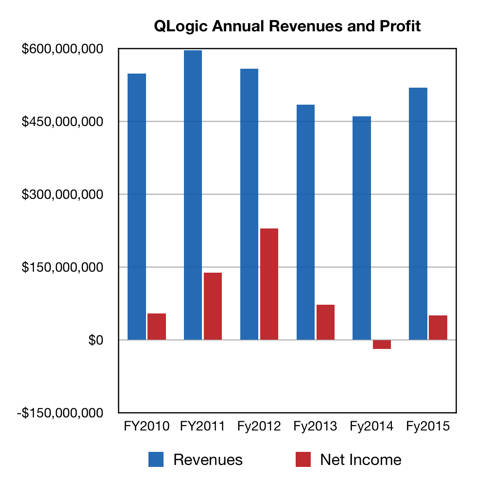 QLogic annual revenues and net income/loss to FY 2015
This is a cheering result as the revenue slump that started in 2012 bottomed out in 2014 and revenues are on the upturn, with a $50.6m fiscal 2015 profit compared to a $18.3m loss in FY 2014.