Toshiba flings covers from Key Value disk and device stores
Firm decloaks Ethernet drives and object storage
---
OpenStack Summit Industry leader trailer Toshiba America is demoing direct-addressed Ethernet disk drives for scale-out object storage at the Vancouver OpenStack Summit, and it's developing hybrid flash/disk array tech using the drives.
Direct-access Ethernet drives bypass the conventional server IO stack with applications writing directly to them and managing data across a set of drives, thus doing away with storage array controller hardware and software. Example products are Seagate's pioneering Kinetic Drive and a developing HGST technology.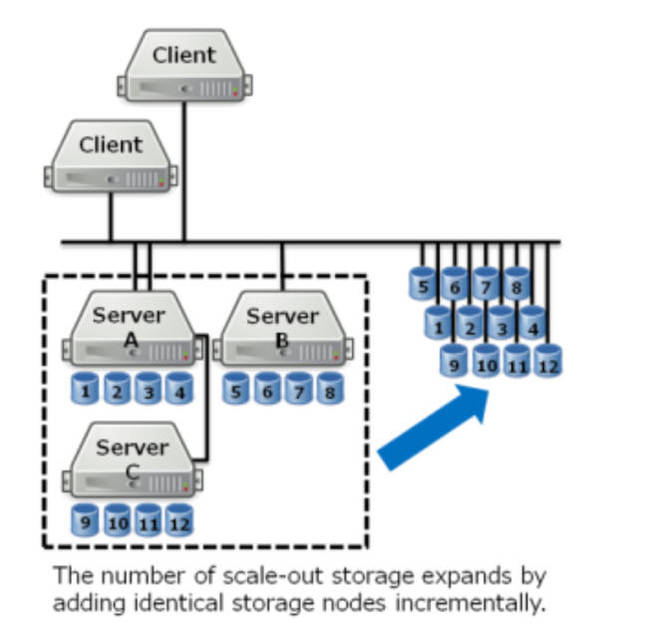 Tosh Ethernet drive scheme, with each drive being a node
It has been expected by many industry watchers that Toshiba would enter this market. Its drive is intended for shingled magnetic media drives – high-capacity platters with overlapping tracks – with Tosh having archival and cold storage applications in mind.
Tosh aims to have both capacity-focused (Drive C) and performance-focused (Drive P) products. It says its "Open Kinetic-compatible drive form factor enables the use of existing Kinetic drive enclosures". Open Kinetic is a term replacing the Kinetic Open Storage Platform.
The company states: "The object storage software that runs on a server uses the Open Kinetic API via a network to perform reads and writes on Key Value drives... Toshiba emphasises the support of Ceph as object storage software to be used on Key Value drive P... Toshiba is working closely with several other object storage software vendors."
The multi-drive product is a Key Value store and has both SSDs and 3.5-inch disk drives (the Drive P direct-access drives above), Ethernet, Linux and 64-bit processing "for running next-generation software-defined storage applications", with scale-out object storage features "providing performance on par with HDD-based primary storage". Tosh envisages it being used with Ceph, which could take the device into enterprise primary storage, unstructured data, information governance and analytical data territory as well.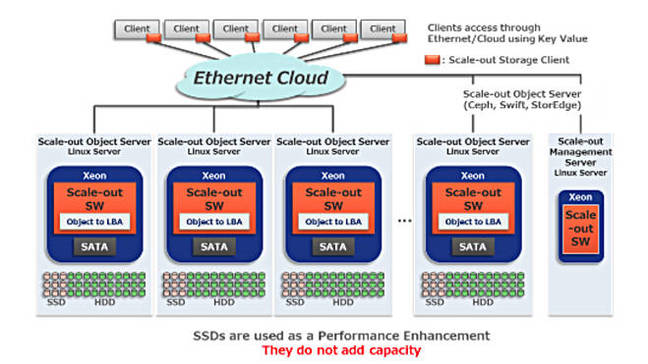 Toshiba's Key Value multi-drive device scheme
These are quite different and disparate application areas. Tar Thirumalai, director of market development at Toshiba Storage Products business unit, says the storage industry is evolving from storage management to data management, so "it is important to expand our storage solutions offering to include Key Value object-based data access methods". El Reg thinks he means the storage disk drive industry with this comment, not the storage industry generally.
Tosh has managed to get a canned quote from Ceph founder Sage Weil, now at Red Hat courtesy of its Inktank purchase: ""When we were first designing Ceph ten years ago, the key idea was that a loosely-co-ordinated collection of smart devices may scale and perform better than a traditional array of disks. It is exciting to see that vision shared by leading component manufacturers like Toshiba."
Exablox CEO Douglas Brockett was also aboard the canned quote roundabout: "We feel that Toshiba's approach will enable new classes of revolutionary storage solutions for customers of all types." Guess we can expect an Exablox product announcement soon.
Toshiba has no Key Value Ethernet drives, shingled magnetic media drives or multi-drive device products yet. We expect drives to be announced by the end of the year, and then Exablox can follow suit.
Check out Toshiba's Key Value storage strategy here (pdf).
Check out all this at Toshiba's stand, number P1, at the OpenStack summit, May 18-22. ®