CA spin-out Arcserve has an updated back-up appliance for the mid-market that should be faster, easier, better-priced and more capable.
It says the UDP 7000 Appliance is for small, medium and mid-market customers, and is a simple yet powerful all-in-one product.
UDP stands for Unified Data Protection and the appliance features:
Five models in three capacities to protect from 1TB to up to 26TB of source data
Global dedupe, encryption, compression and WAN-optimised replication
UDP wizard to simplify set-up with time to first back-up in less than 15 minutes
Combination of SATA, SAS and SSD drives for optimised performance
Off-site protection options including automatic replication to UDP appliance(s) in public or private clouds, secondary office sites or direct back-up to tape
Protects physical and virtual servers with host-based, agent-less back-up for vSphere and Hyper-V
Recovery options include local, remote or cloud virtual stand-by, bare metal recovery, granular application recovery or simple file recovery
The Xen hypervisor is also supported. Arcserve Northern Europe sales director, Giovanni Goduti, said it comes with "a price-point that's unmatched in the industry".

Arcserve UDP 7000
Arcserve is fighting for business on a features front, as well as a pricing front and here's a competitive table taken from its website: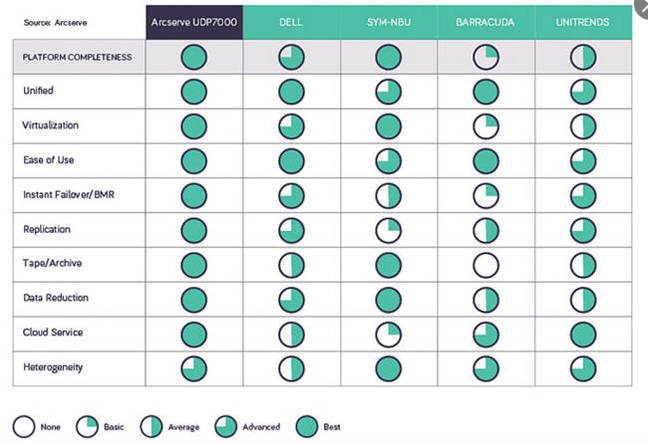 Arcserve's feature comparison across the UDP 7000 and its competitors
The company was spun out from parent CA in the middle of last year and is developing its UDP line to take replacement business away from the leading vendors in the market. Expect a real scrap in the marketplace as Arcserve, Barracuda, Code42, Dell and others fight it it out for back-up appliance business. Customers should get more powerful and simpler-to-operate back-up appliances as a result.
Get a product datasheet here (pdf). It's available in the UK, Ireland, Benelux and the Nordic region, with versions for French and German-speaking markets to be added later this year. Higher-capacity UDP 7000s will become available towards the end of the year as well. ®
Similar topics