This article is more than 1 year old
Healthy Drobo set free by Connected Data to go it alone
Ex-Brocade veep takes charge of independent biz
Drobo, maker of simple-to-use personal data storage robots which you populate yourself with disk drives, is being spun-out by owner Connected Data, with an investment group buying the business.
The firm was originally called Data Robotics but changed its name in 2011 to the name of its Drobo* product, which amassed a large and loyal set of customers. It was founded in 2005 by by Geoff Barrall, who founded NAS supplier BlueArc, and Julian Terry. Tom Buiocchi became its CEO in late 2009.
Barrall became an executive at Overland Storage in 2010, eventually leaving to found and run Connected Data, which makes peer-to-peer file-sharing Transporter devices. Connected Data bought Drobo in May 2013 when it ran into trouble and its investors forced it into a sale; the alternative being liquidation.
Now Drobo is back to business health, having been restructured and made profitable, a huge milestone in Barrall's words. The technology has been improved with the core engine made faster. More is coming.
It is being spun-out so Connected Data can focus on its Transporter for Business product. The new CEO at Drobo is Mihir Shah, whose canned quote said: "I anticipate continued rapid growth for Drobo as we engage our escalated execution and expansion strategy for 2015 and beyond."
Shah had a corporate development position at IBM in the 2004-2009 period, being part of the team that did the XIV acquisition. He was a managing director and VP at Brocade, involved in corporate development and strategy from 2010 to 2014, being involved in helping Brocade move into the software-defined networking area. He then became the CEO at BlueFin Technologies.
BlueFin describes itself as "a global provider of enterprise-class transformational technology solutions with expertise in infrastructure management and services, software, application development and world-class support services". It's worked with Microsoft and revenues grew 300 per cent year-on-year while Shah was there. He's resigned the CEO slot now to move to Drobo.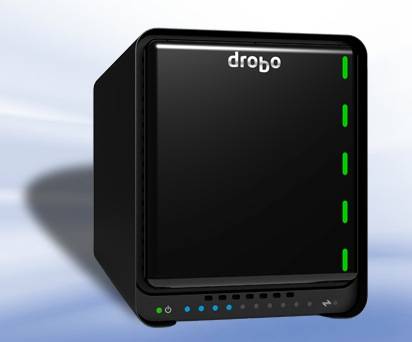 Drobo 5N
Barrall's prepared quote said: "We are pleased to have ushered Drobo's growth for the past two years while also charting the success of Connected Data's Transporter line of private cloud appliances. With separate target customers and markets, it made sense to separate the companies, so that each can benefit from a more dedicated management team and focused strategic execution for the next phase of growth."
Barrall told us that Drobo is a mature product line with thousands of customers and growth prospects. Connected Data is a younger, hungrier company growing very fast and having the two businesses together under one roof was not optimal for either of them.
During the process of working out what to do he met Shah and the two got on well. It became apparent that separating Drobo from Connected Data would be best for both companies, and Shah, enthused by the possibilities and viewing Drobo as the Apple of storage, became involved with the investment group and its friendly purchase of Drobo.
Let's hope Drobo can successfully go it alone on its second attempt. The acquisition is effective immediately and Barrall will remain on Drobo's board of directors. Terms of the deal and additional investors were not announced. ®
Bootnote
* Although Drobo sounds like the name of a Hobbit, the barefoot halfling creatures in Tolkien's The Hobbit and The Lord of the Rings trilogy – Drobo, son of Frodo, etc. – there is sadly no connection.