Coho Data spawns all-flash MicroArray with fresh funding help
Not quite storage fishing in the Yemen, but still pretty good
Storage service array startup Coho Data has nearly doubled its funding and got itself a new product to boot.
A nice thirty million dollars has been injected into the company in a C-round led by March Capital Partners, along with Intel Capital, HP, Andreessen Horowitz and Ignition Partners. It's interesting that both Intel and HP are involved.
Total funding after the $10m A-round in its founding 2011 year, and the $25m B-round in 2013, is now almost $67m.
Coho scale-out MicroArrays combine server, flash and disk storage, and compute but are not hyper-converged systems in the Nutanix and Simplivity sense as it's envisaged they only do closely-couple storage task compute, such as video stream transcoding.
The newest product, the all-flash 2000f DataStream MicroArray, has been developed in conjunction with Intel. It slots in the range as the performance leader above the Hybrid 1000h and 800h models, with which it can inter-operate in a cluster.
They are described as web-scale, object storage-based distributed systems presenting a NAS (filer) storage pool with a single namespace. The system features automated tiering and load-balancing, with built-in monitoring and analytics.
Accessing application IO requests come in through a pair of front-end DataStream OpenFlow-enabled 10GbitE switches with the MicroArray cluster behind them.
It has a 2U chassis containing:
Two MicroArray nodes
Four Xeon CPUs
Four Intel 1.6TB P3600 PCIe NVMe flash cards
24 x 2.5-inch SSDs which come in 8, 16 or 24 storage packs*
7-47TB usable capacity
11-93TB effective capacity after compression
Four 10GbitE NICs
A two-node chassis delivers 320,000 read-only IOPS and has an IOmark-VM level of 960.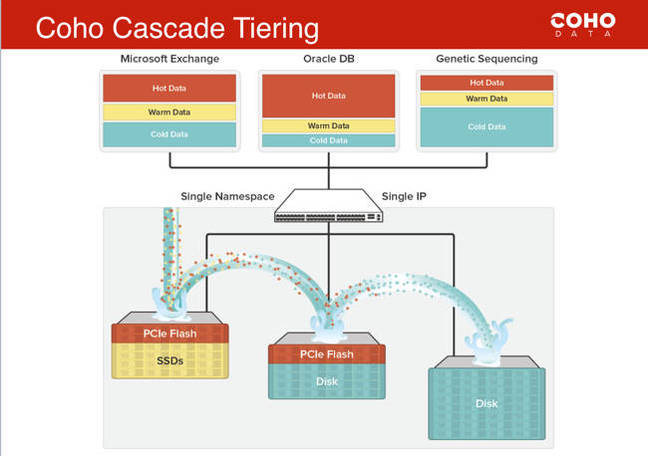 Coho's tiering scheme
Coho has announced a Future-Proof Storage Guarantee, which includes new software features free of charge for hardware under a support contract.
Get Coho 2000f tech information here. The 2000f is now generally available from Coho's channel and is priced at less than $0.10/GB usable per month. ®
* Storage pack sizes (1TB = 960GB, 2TB = 1920GB, 4TB = 3840GB). 1TB = 1012 bytes.