Imation CEO voted off board in proxy war bombshell
Activist investor Clinton Group sets up camp at far end of boardroom table
Imation's CEO has been provisionally voted off the company's board, as shareholders supported the activist investor Clinton Group in its view of Imation's alleged leadership failures.
This AGM proxy vote result still has to be certified, but that looks a formality.
The Clinton Group said Imation's long revenue decline and turnaround failure was due to the board and CEO Mark Lucas. It wanted its three candidates elected to the board (instead of Imation's slate of Mark Lucas, L White Matthews III and David Stevens) and so they were at yesterday's AGM.
They join existing board members Geoff Barrall, CEO of Connected Data, Tony Brausen and William LaPerch.
What now? A new board chairman needs to be voted in. Also the board appoints and directs the CEO, who normally is also a board member. Now Imation's CEO is off the board and the three Clinton Group nominees – Joseph De Perio, Robert Fernander and Barry Kasoff – blame him and the previous board for Imation's continuing revenue fall over the years they have been in control.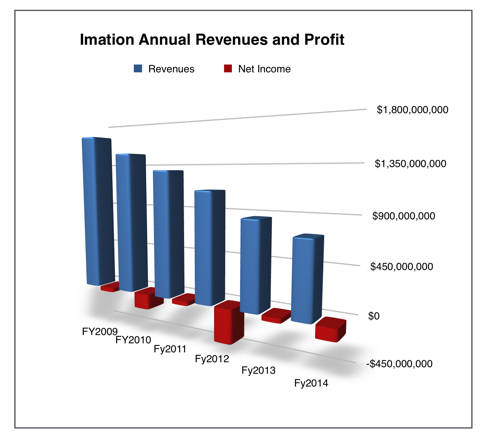 Lucas said: "We look forward to working collaboratively with our new and existing directors to maximise value for all shareholders, including completing the fulsome review of strategic alternatives."
Ejected non-exec chairman, L White Matthews III, said: "We are confident the reconstituted Board and management will continue to build upon this progress and position Imation for a bright future."
Some might think this is a silly comment, as Imation's likely future is to be sold off complete or broken up and sold in pieces. In the meantime, it is likely it will be restructured into a Legacy Business segment and a Disk Storage segment, as suggested in a Clinton Group proxy vote letter.
Will Lucas continue as the CEO? Probably in the short term, but he faces having his pay and compensation cut, as the Clinton Group have said he's paid more than he's worth. If the Clinton Group get the board chair position – they don't have board majority control – then its influence will be solidified. ®