This article is more than 1 year old
HP beats the street on earnings, misses on revenue in Q2
Things are ugly outside the Americas, new China deal might help
HP has announced its results for its second fiscal quarter, and the news is mixed.
The market expected the company to post earnings of 85 cents on US$25.64 billion in revenue. The company trumped the earnings figure by announcing it delivered 87 cents per share, but missed on revenue with a figure of $25.45bn. That's down seven per cent from 2014's corresponding quarter.
Also down is revenue outside the Americas. As the graphs below show, the company is sliding in Europe and the Asia Pacific
CEO Meg Whitman reminded investors in the company's earnings call that "over 65% of our revenue [comes] from outside the United States and over half of that in EMEA, [so] we are disproportionately impacted by currency movements versus our competitors."
But the graphs below are "Adjusted to eliminate the effects of currency", so reflect dips in revenue. Troubles in EMEA can perhaps be ascribed to Europe's ongoing economic struggles. Asia, however, is supposed to be the growth engine of the world. Whitman said geopolitical issues slowed sales in Russia and China.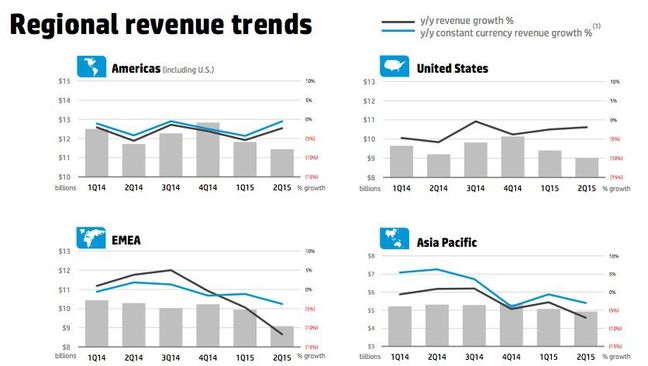 HP revenue by region. Go large here
In the latter country, HP has a new plan: the expected divestment of China-based networking appendage H3C came to pass. As predicted, Tsinghua Unigroup now owns 51 per cent of the business. The deal also means Tsinghua picks up HP's server storage and technology services business in China. Around US$2.3bn will change hands, meaning H3C is valued at $4.5bn. HP still has skin in the game, but isn't in charge any more.
HP CEO Meg Whitman reckons the deal means "In one move we have repositioned HP and shifted the entire technology landscape in the critical Chinese market to accelerate our overall performance and better serve our customers and partners."
Let's get divisional and look at how HP's various businesses fared:
Personal systems hauled $7.7bn through the door, a year-on-year dip of five per cent but with bright spots in units shipped (up two per cent) and laptop sales (shipments up 1.9 per cent and revenue up five per cent). Desktops revenue and unit shipments fell by 17 and 14 per cent respectively. Whitman reckons the company is managing the declining market about as well as is possible.
Printing had a bad quarter with year-on-year drops for revenue (seven per cent), hardware slipped (four) supplies revenue (five) consumer hardware sales (six) and a one point uptick for business machine sales.
The Enterprise Group reported an eight per cent decline in storage sales, but a five per cent jump in "converged" storage offset by a 18 per cent dip in "traditional" kit. Networking revenue was down 16 per cent year-on-year.
Enterprise services was down a nasty 16 per cent.
Software licence revenue was down 17 per cent.
Here's what Meg Whitman had to say about the results:
"I'm pleased with where we ended the quarter, the continued success of our turnaround, and the progress we're making on separation. Despite some tough challenges, we executed well across many parts of our portfolio, sustained our commitment to innovation, and delivered the results we said we would. HP is becoming stronger as we head into the second half of our fiscal year and separation in November."
Markets agree: the company's share price ended the day up 2.3 per cent at $33.83.
Whitman also outlined HP's progress towards its split into two companies, suggesting the cost of doing so looks like being lower than first expected. The CEO also flagged "execution issues in pockets of the portfolio, including Software and Networking" but expressed confidence both will bounce back.
With Aruba due to come aboard soon, the networking business will get a boost, but also the challenge of integrating a new acquisition. It's harder to see where the software business will find growth or calmer waters. ®