HP storage revenues declining as the dithering continues
Is a distracted Whitman twisting or sticking?
---
Comment HP storage revenues went backwards in its second fiscal 2015 quarter.
The revenue from newer converged storage systems (3PAR, StoreOnce, StoreAll, etc) rose 5.3 per cent over the year to $356m (from $338m), but traditional storage revenues (EVA, MSA, tape) slumped 18.3 per cent to $384m (from $470 million).
Overall storage revenues of $740m were 8.4 per cent down on the year-ago's $808m. It wasn't the worst part of HP's Enterprise Group business, where revenues declined one per cent on the year to $6.6bn.
Business Critical Systems' revenue shrank by 15 per cent and networking revenue was down 16 per cent.
So, newer storage systems revenue failed to grow past the trad systems, and overall quarterly storage revenue carried on declining, as it has done for 12 quarters or so.
At least things aren't as bad as the latest NetApp storage results but the pattern of continued, multi-year decline prompts the same basic question; if what you have been doing isn't working what are you going to do to re-ignite growth?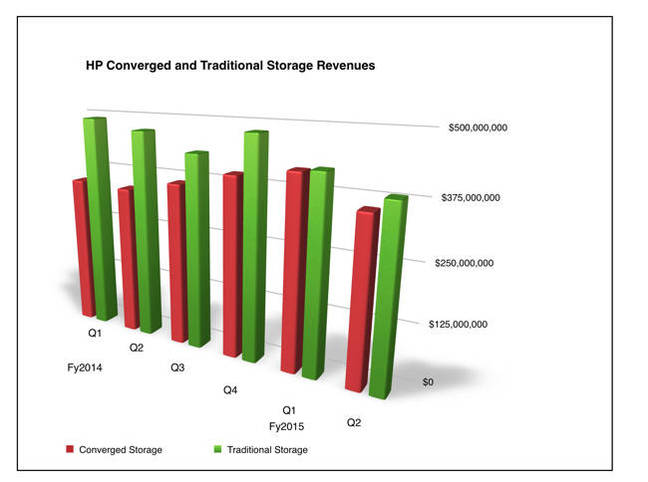 NetApp's answer is to double down on Clustered ONTAP; effectively, carry on doing what it's been doing. What is HP's answer?
While CEO Meg Whitman is occupied with splitting HP into two, there is not much exec mindshare focussed on getting the storage business out of its slump.
Stifel MD Aaron Rakers notes: "HP's reported storage revenue ... is down eight per cent year-on-year (12 per cent sequentially) versus combined EMC, IBM, HDS, and NetApp storage revenue at -2 per cent. EMC reported total storage product-only revenue at -5 per cent year-on-year, while IBM reported -2 per cent year-on-year recently; NetApp reported branded revenue declined seven per cent year-on-year in its April quarter."
He said "HP expects that continued growth in converged storage will drive a return to overall storage growth in constant currency in the second half of 2015."
There was some comfort for HP in this point: "3PAR was the fastest-growing all-flash array in 2014 according to Gartner, growing a fantastic +1,000 per cent from $8.8m revenue in 2013 to $102m in 2014, capturing seven per cent market share behind EMC, Pure, IBM and NetApp."
Actually, how much comfort is that? HP is only in fifth place.
We might make the crude assumption that the initial and big 3PAR boost to HP's storage revenues is pretty much over. Yes, there will be more conversion of trad systems to converged storage, but nothing dramatic because HP storage customers are faced with the same choice as NetApp ones.
Trend line added
Do I stick with the known quantity that is HP for my storage needs, they ask, or do I move to newer all-flash array, hybrid array, hyper-converged arrays, scale-out arrays or the cloud instead? The steady downwards storage revenue trend suggests that they may well be buying from alternate suppliers.
If that is the case, what will HP's response be?
In the short term, it's to carry on doing what they've been doing while the business bifurcates. In the longer term, there is the prospect of the radical Machine architecture revitalising the scene. In the medium term?
There's the rub. Does HP wait for the coming of its Machine Age or does it do something in the hyper-converged, hybrid, scale-out space, with a possible acquisition getting it to market faster than an in-house development process?
Then there is the wild card; should HP merge with EMC or do something similarly revolutionary to turn itself into a part of a larger lean, mean, enterprise revenue go-getting machine?
Watching gigantic oil tankers turn is a frustratingly slow business. So it is watching IT behemoths like HP. Meanwhile, the storage business, at just three per cent of HP's overall revenues, probably gets a three per cent Meg Whitman mindshare. So who really cares at the moment? ®