This article is more than 1 year old
Post-pub nosh neckfiller: Bog-standard boxty
Looking for a husband? This Irish no-frills spud-based stodge can help
"Really dad?" It was with a slightly exasperated raise of the eyebrow that my daughter Katarina greeted the news last weekend that we were about to tackle classic Irish spud-based nosh boxty, the better to increase her chances of acquiring a suitable husband* when the moment arises.
In case you're wondering, as was Katarina, just how a few potatoes can make the difference between nuptials and spinsterhood, then heed these traditional words of warning:
Boxty on the griddle,
Boxty in the pan,
If you can't make boxty,
You'll never get your man.
So, just what is this magical dish, whose Anglicised name derives from the decidedly unmagical arán bocht tí, ("poor-house bread")? Well, it's a melange of mashed and grated raw potato, much beloved in the Emerald Isle, and either fried, baked or boiled as dumplings, according to local custom.
As well as attracting a mate, boxty serves as excellent post-pub stodge and can be dished up with a range of accompaniments, most notably <drumroll> ... bacon. Yup, it's a marriage made in heaven, so let's get down to knocking up a boxty in its most common fried form.
You will need ...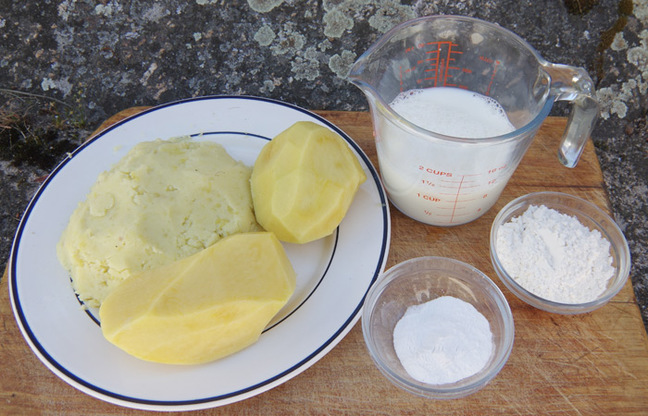 500g leftover mash
500g peeled spuds
300ml milk
150g plain flour
5g baking powder
... plus butter, and salt and pepper to taste.
All the recipes we checked out demand buttermilk, rather than milk. We couldn't readily get that, so can't report if if makes a difference to the finished product.
The cooking process isn't exactly onerous, apart from grating the raw potato. We'd advise mechanical intervention using a blender, but you're not looking to create a purée, rather a somewhat coarser raw spud particle.
Here's the step-by-step, for your viewing pleasure: