This article is more than 1 year old
Land Rover's return: Last orders and leather seats for Defender nerds
Blighty's Jeep – done in a thoroughly British way
We all know there's only on one true Land Rover: the Defender. A cheerful, competent, boxy-shaped device that's been in production since 1948, inspired by the Jeep, the Allies' WWII workhorse.
It looks as good pulling logs from a forest as it does pulling up outside a house in Mayfair and it was voted Greatest Car of All Time by the viewers of Top Gear in 2003.
The Defender has served in the countryside and in cities, appeared in TV and films – including, recently, Skyfall – and has been driven by royalty, civilians, military, adventurers and blue-light services.
It is the genesis of both other Land Rovers and the more luxurious edition beloved of middle-class mums, footballers wives and Russian Oligarchs in London – the Range Rover, or Chelsea Tractor.
Sadly, very sadly, production of the Defender is coming to en end, because it cannot meet (or be made to meet) new car emission rules from the European Council that kick in in 2020.
Production will therefore end in December. Jaguar Land Rover (JLR), the manufacturer, has hinted that the production line may be moved overseas, with the vehicle remaining in limited production elsewhere.
But, even if this is the case, the Defender will no longer be available brand new in EU markets, meaning the familiar sight of a Land Rover toiling across the British landscape – a presence that helped make it a stalwart of British automotive culture – will gradually recede from view.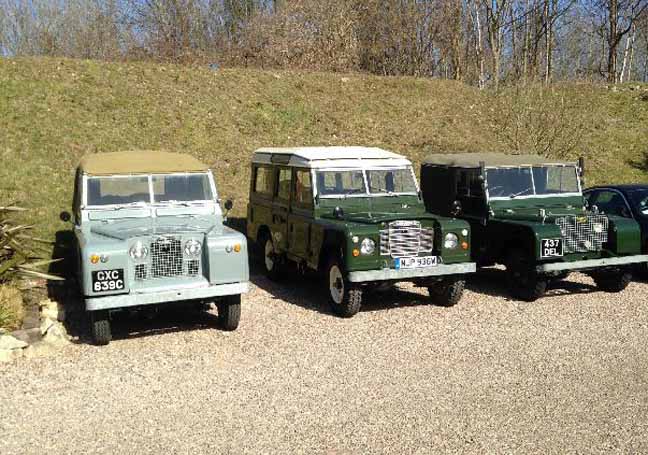 Land Rovers series 2 and 3 on parade ... The entrance to the factory tour
In recognition of the Defender's iconic status, JLR is running a year of celebrations. This includes three special, limited edition versions of the Defender, with prices running up to £62,000. The final date for orders is rumoured to be June 26.
JLR is also currently running a Defender Celebration Tour at the Meteor Works, Land Rover's site in Lode Lane, Solihull.
As major fans of the vehicles, a small group of us couldn't miss this opportunity, so in March took the tour.
The first surprise (for me, at least) was the location of the factory; it is close to the airport on the edge of Birmingham, but essentially is surrounded by housing estates.
This means that to approach it, you drive through a sea of domestic housing and suddenly come across a huge factory buried in the middle. As you arrive you are greeted by a line-up of older-model Land Rovers.
Inside the reception area (which doubles as a gift shop full of Land Rover memorabilia) you are met, identified and provided with biscuits and coffee. You also meet your guide, clearly chosen with extreme care to be amiable, charming and above all, knowledgeable: this tour, after all, is likely to be taken by Land Rover geeks, so the guides have to be able to out-geek the attendees.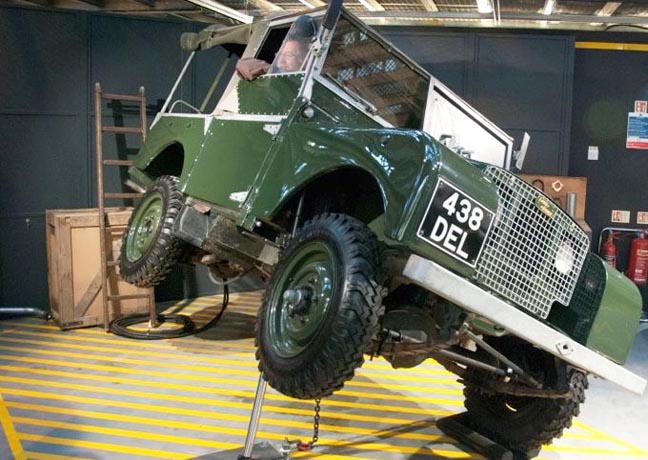 Tilt if you dare – the early-series rig that lets you roll up to 30 degrees
From there we moved to a small theatre for films about the history of Land Rover and a brief look at the current vehicle range, just in case you had a spare £0.15m in your pocket for a top-of-the-line Range Rover. No-one did.
Then we all got dressed in high-vis jackets, went outside and sat in the HUGE Defenders for the tour. These are themselves interesting vehicles, built on a super-long 147" wheelbase chassis and specially developed for game viewing in the South African bush.
Sadly, they have never been homologated for use on British roads, so they are destined to spend their entire lives on the JLR factory site.