This article is more than 1 year old
Private cloud has a serious image problem
'AWS is to the era of cloud what Microsoft is to client/server'
"Obscenely expensive" public cloud
While you'd expect an AWS executive to sing ballads to the public cloud, his thinking makes intuitive sense. Big data is driven by variable workloads, requiring highly elastic infrastructure. A paean to the apologists.
But not all workloads are elastic, of course. As Red Hat CEO Jim Whitehurst recently told me: "The [public] cloud becomes obscenely expensive at scale."
While cost isn't the only consideration, Whitehurst continued: "A number of enterprise customers tell us that apps that don't vary a lot in usage are significantly cheaper to run in their own data centre than on the public cloud."
While AWS is great for early test and dev, and perhaps even essential, he reasons, once the kinks have been worked out of a workload it's generally better to move that workload to a dedicated private cloud to improve performance and lower costs.
It's a thoughtful response, and almost certainly true in some instances. Etsy chief technology officer, Kellan Elliott-McCrea, for example, tells me that the marketplace leader has dramatically improved performance and utilisation by dropping its public cloud services in favor of a homegrown data centre.
Unfortunately, many other IT buyers discover the exact opposite. Gartner polled 140 companies running private clouds, and discovered that 95 per cent of them have significant problems: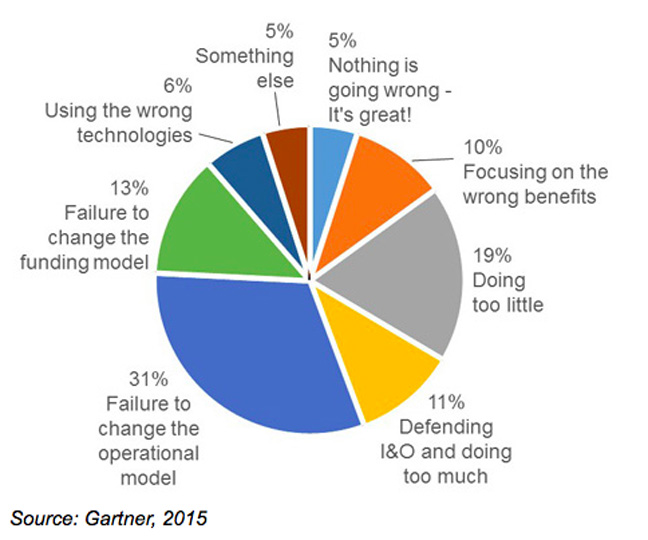 Despite this hit (err...fail) rate, some keep pimping private cloud's staying power.
Take, for example, CenturyLink Office of the CTO executive Ed Saipetch's defense of private cloud. In response to my contention that private cloud is "dead" (compared with public cloud's growth) Saipetch counters: "Private cloud... won't die or be dead. Just like mainframe and tape."
Wow. I'm not sure I'd ever want to point to tape drive and mainframe longevity as a reason to believe in the health of a market. Sure, people still buy both, but I don't think anyone outside IBM wakes up in the morning feeling excited about mainframes.
Not that I'm judging them.
Then there's VMware vice president Matthew Lodge, who chides me that "all public cloud is now 20 per cent of all virtualised workloads." In other words, still a sliver of the market.
Which sounds great, until you factor in Gartner analyst Thomas Bittman's analysis of VM growth in the cloud, the fastest growing market. In the public cloud VMs have grown 20x in the past few years, while private cloud VMs have managed just 3x growth.
In other words, 20 per cent of all virtualised workloads growing at a 20x clip means ...er... many, many more public cloud VMs to come in the very near future.
Let's go back to the numbers. AWS is now ten times the utilized capacity of its next 14 competitors combined. That's amazingly big.
Microsoft, for its part, is sprinting to catch up, and by all accounts is making some headway, at least against the rest of the cloud pack.
Meanwhile, with the public cloud purveyors dramatically lowering pricing on a regular basis (Google just slashed prices by nearly 30 per cent), Whitehurst's cost argument risks losing resonance.
But ultimately, the shift to public cloud is about one number: servers you need to worry about.
Which number, increasingly, is "ZERO."
A recent OpenStack survey found that 77 per cent of surveyed IT organisations believe reduced time to deployment of services is the most important performance indicator for an OpenStack project. But if that's the goal, the public cloud is almost certainly the safer bet.
As Envoy founder Larry Gadea declares of AWS Lambda:
FYI, this is crazy. We just did a backend call with full-on backend logic without setting up any kind of instances. No worrying about starting a new not-even-free-anymore Heroku Dyno. No choosing machine speed and memory and hard drive sizes. It just works, effortlessly, and scales enormously.
Or as 451 Research analyst Donnie Berkholz's says: "The future? How about moving away from the need to worry about servers at all?"
That's the world of public cloud. It's why developers love AWS (and increasingly are bonding with Microsoft Azure and Google Cloud Platform). It's why the public cloud keeps winning. ®