Google I/O To many, Google's Cardboard VR headset is just a novel paper-and-plastic toy, but the Chocolate Factory is taking it seriously enough that it has given it a revamp and is pushing to have it more widely adopted.
Cardboard product manager Clay Bavor unveiled Version 2 of Google's cheapo goggles at the company's annual I/O developer conference in San Francisco on Thursday, and it's known officially (and sensibly enough) as the Google Cardboard I/O 2015.
The main difference with the new unit – as compared to the version that was released at last year's I/O – is that it can now accommodate screens with diagonals up to six inches. "Phones got a lot bigger over the last year," Bavor quipped – no doubt a reference to the fact that Google's current flagship phone is the Nexus 6.
The single control on the device has also been spruced up. Where the old unit used a ring magnet for a switch that was often flaky with some phones, the new one has an actual pushbutton that taps the phone's screen with a "fingertip" made of capacitive material.
The lenses on the new unit are also of noticeably larger diameter than the old one's lenses, and they are perhaps a little clearer.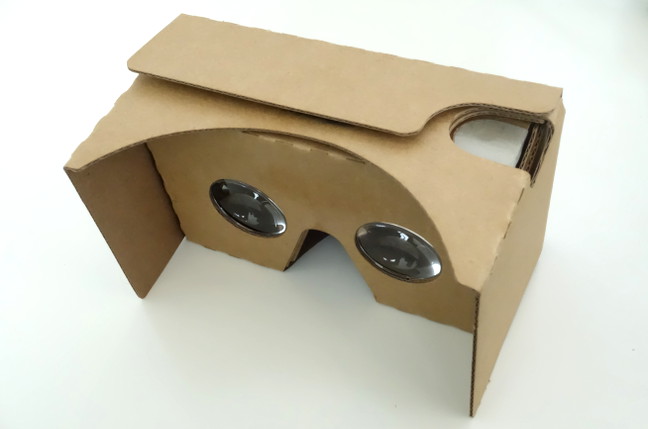 Cardboard I/O 2015 doesn't diverge that far from the original, but it fits your Nexus 6
That's about it, though. It's still a little cardboard box that you fit your phone into and, with the help of the NFC chip and Google's Cardboard app, you can use to view stereoscopic 3D worlds that pan around as you move your head.
Google's headset isn't the only way to view Cardboard content, either. There are now more than one million Cardboard headsets in the world, Bavor said, with models from dozens of manufacturers – soon to include mega-toymaker Mattel.
"What began as a single, open design turned into an entire ecosystem of manufacturers making Cardboard in all shapes and sizes," Bavor said.
The most Google photo ever. The future is horrible. #io15 pic.twitter.com/4ETH6dPiVf

— Leslie Nassar (@leslienassar) May 28, 2015
True to form, the Mountain View Chocolate Factory has even been using the (literal) goggle-boxes to whisk children away on magical adventures, Bavor added. A new program called Expeditions is designed to let teachers bring their classrooms on "virtual field trips" to various locations around the world via the wonders of stereoscopic 3D.
"Here's how it works," Bavor explained. "A box arrives with everything you need to travel. Cardboard and phones for every student, a teacher tablet, and all of these devices are synchronized. When the teacher chooses a place, the entire classroom jumps there together."
Bavor said that teachers who want to create their own Expeditions for their classes can now sign up via the program's website.
VR capture for everyone
Google is also working on making it easier for more people to generate content for Cardboard. To that end, it's come up with Jump, a new, 360-degree camera design that – with the help of some special Assembler software – lets you stitch together 16 separate camera images into a truly seamless whole that you can pan around with Cardboard.
"What's critical is the actual geometry. We spent a lot of time optimizing everything: the size of the ring, the number and placement of the cameras, the field of view ... every last detail," Bavor said.
As it did with Cardboard, the Chocolate Factory plans to release the complete plans, including CAD files for producing the cameras on 3D printers or by other means, this summer. "Anyone will be able to build a Jump-ready camera," Bavor beamed.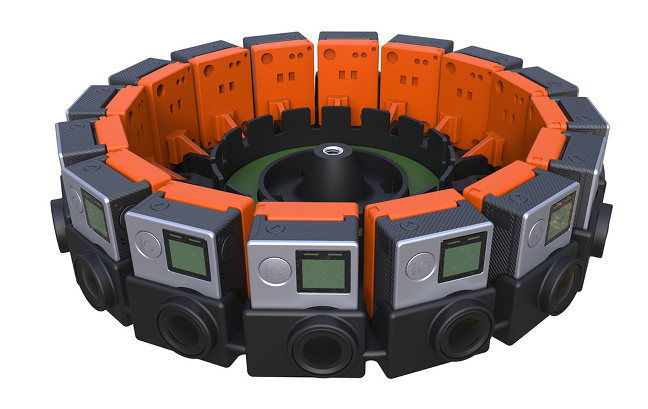 GoPro is planning a slick, commercial version of Google's Jump camera design. Just don't ask when (Source: Google)
That is, you will if you have a certain degree of mechanical ability. Bavor admitted that successfully assembling one of the cameras will be a tricky matter, given the precision involved. But if you don't think you'll be able to manage it yourself, Bavor said GoPro plans to build and sell a Jump-ready 360-degree camera for consumers, although he didn't say when we could expect it to hit the market.
The point, though, is that Cardboard isn't meant to be just a toy. What Bavor would like most is to see more applications for it, and he said he's already impressed by what people have come up with.
"One guy even proposed to his girlfriend with the help of Cardboard," Bavor said. "I'm not actually totally sure how that worked, but the important thing is that she said yes." ®