This article is more than 1 year old
It's the Internet of Feet: Lenovo shows smart shoes, projector keyboard phone
Also bizarre peepshow watch
Chinese tech giant Lenovo has been showing things it's making and things it wants to make at Lenovo Tech World in Beijing.
Cool gizmos include a display technology for smart watches that produces a virtual screen bigger than the watch. The company calls it "Magic View". It's a small screen below the main watch screen that looks like a traditional camera viewfinder. Peer into it and the small screen shows an image which changes with the orientation of the eye, wrist and viewer. It's a bit like looking at a house by peering through the letterbox.

This mechanism is built into the side of the watch and the top of the strap, you peer through a keyhole.
Lenovo claims this is "The first step in the journey to making smartwatches more usable. It uses optical reflection to create a virtual image and allows users to see a virtual display more than 20 times larger than the watch face display. For example, they can follow a map, view photos or even watch a video."
Which is fine if you want to watch a video with your nose rammed against your thumb. You'll walk around looking like a defendant on courtroom steps.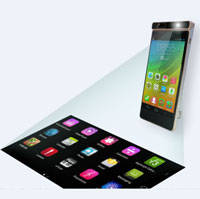 Lenovo also showed a phone with a laser projected keyboard. Such devices have been available to consumers for over ten years, and while the new Lenovo version adds colour it will be down to the accuracy of the finger tracking - which has historically been poor - to establish if the technology has matured to the point where it is useable. Even if it is, there is no way to counter the odd feeling of typing on a desk.
Lenovo calls this "The Smart Cast concept product," and says:
Whereas today smartphones are limited to consuming content, Smart Cast changes the paradigm by giving users a smart phone with built-in laser projector, infrared motion detector and high-performance algorithms. This first-ever technology combination opens a new world of interaction: Users can project a large virtual touch screen onto a table to type with a virtual keyboard and work with specific productivity apps (calculator, drawing, note-taking and even edit in Microsoft PowerPoint).
Which means Lenovo has missed what Israeli company VKB and New York based Symbol has been doing for years. An irony since Lenovo bought a bit of Motorola, and Symbol belongs to another bit of Moto.
As well as using the projector as a keyboard it can be used as a screen or touch screen: "Users can transform their wall into a movie theatre to watch videos, give a presentation or even play games like Fruit Ninja using hand gestures on the table or cast onto the wall. For a transformative video chat, they can project content onto the wall while viewing different content simultaneously on their smartphone screen."
At Tech World, noted pianist Lang Lang helped demonstrate the possibilities of Smart Cast with a rendition of The Entertainer played on the virtual keyboard with the full size sheet music displayed from the smartphone's projector.
And in another example of completely failing to get the point ...
Lenovo also demonstrated its Smart Shoes concept - one of its Internet of Things (IoT) products that leverages the cloud to tie together hardware, software and applications in a new way. The smart shoes display a person's mood on screen as well as track and analyze fitness data including heart beats and caloric consumption and even provide maps and directions to places. The smart shoes concept fits into Lenovo's IoT cloud strategy to build an ecosystem including open SDK platform, innovation incubator with professionals from different areas, smart devices, supply chains and powerful backend cloud infrastructure.
The economies of shoe production are driven by fashion. A pair of trainers which costs £80 in the shops leaves the factory costing $5. Shoes have multiple sizes, designs and colourways. This leads to a massive overhead in stock. Branding and distribution are also major costs as is the disposal of unsold stock. Adding orders of magnitude to the bill of materials for a product which by its very nature will both wear out and go out of fashion is economic nonsense.
There is a role for smart shoes in the couture market but ultimately Lenovo making smart shoes is a dumb move, we suggest. ®