The Internet of Junk Things isn't going to overwhelm the Internet's capacity any time soon, according to Cisco's rolling Visual Networking Index (VNI) report.
What the IoT will do, if Cisco's got its numbers right, is account for the bulk of new connections to the Internet in the next five years, suggesting that The Borg doesn't share the "connect the world" optimism of Facebook and others.
That snippet is what El Reg gleans, anyhow, from the user and traffic growth data provided in the latest VNI.
Cisco says machine-to-machine (M2M) connections will grow from 24 per cent of connections in 2014 to 43 per cent of connections by 2019.
With total connections growing from 2.8 billion to 3.9 billion in that period, M2M is predicted to rise from 6.72 billion connections for 2014 to 1.677 billion in 2019 – adding 1.005 billion.
If that's correct, then the VNI is predicting just 95 million brand-new human connections to the Internet in the same period.
Faster networks and more video, rather than new wetware, will remain the engine-rooms of traffic growth: average broadband speeds will rise from 20.3 Mbps to 42.5 Mbps, Cisco reckons, and hunger for video will drive the global traffic run rate to 2 zettabytes annually.
With relatively low-bitrate M2M connections excluded from the 2019 forecast, that suggests the Netflix effect is going to continue to bite carriers.
With video taking up more punter attention, and high-definition video tipped to represent 53.5 per cent of all video traffic by 2019, per-user downloads will more nearly triple, from roughly 28 GB per user per month to 75.6 GB per user per month.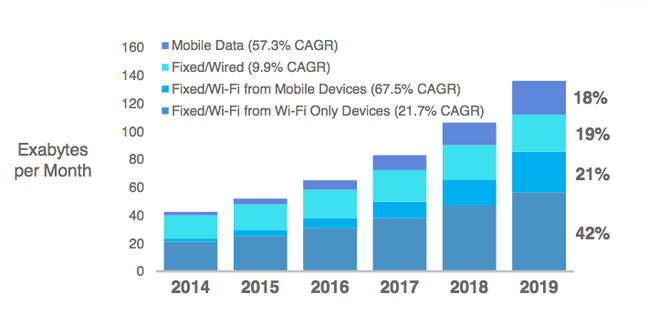 Most data will still hit a fixed connection at some point, Cisco reckons
Mobile data will, by 2019, show the impact of 4G, Cisco reckons, making up 18 per cent of data compared to a couple of per cent now. The rest will be dominated by WiFi devices connected to fixed broadband (63 per cent of all data), with only 19 per cent of users expected to rely on wired Ethernet through their fixed connection. ®