This article is more than 1 year old
Split decision: Asus Transformer Book T300 Chi convertible
Two-into-one does go
Review Convergence. Wretched word. But one particularly liked by hardware wallahs trying to convince us that instead of buying a laptop and a tablet, we should buy something that is a laptop and a tablet. Asus is king of the convergers.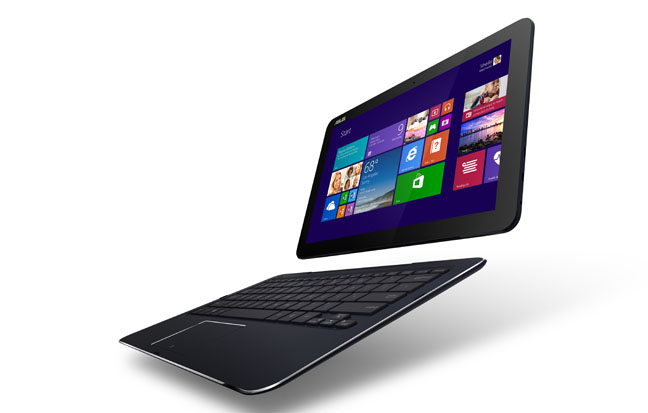 Doing the splits: Asus Transformer Book T300 Chi
To be fair, Asus has a good track record when it comes to these sorts of devices. It's been making combo tablet-and-dock "Transformer" machines running both Windows and Android for a good few years.
Now we have the Chi range of Windows 8.1 Transformers: the 8.9-inch Chi T90, the 10.1-inch Chi T100 and the 12.5-inch Chi T300. If you are after a Windows convertible this is probably where you will start looking and it's the range-topping T300 that Asus has sent me to prove it is still the daddy of this whole transformer 2-in-1 malarkey.
Let's get one thing out of the way. The T300 is not a budget buy. At a penny less than £800 it's competing against some quality kit like Microsoft's 12-inch Surface Pro 3, the 13.3-inch Lenovo Yoga 3 Pro and Apple's 11-inch MacBook Air. Just as well then that, spec-for-spec and as a package, it stands up well against all three.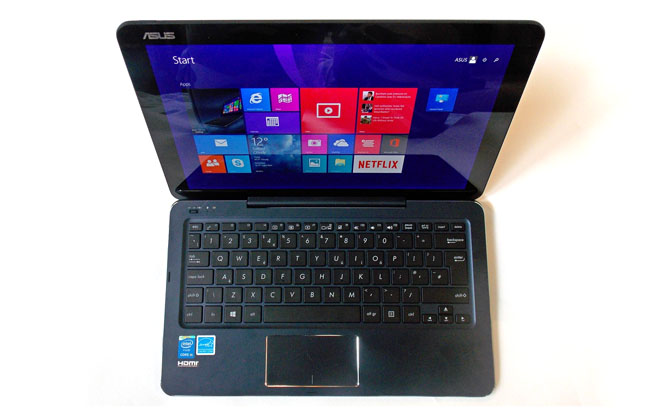 Trackpad is a little small but does its job well enough
To start with you get a 12.5-inch 2,560 x 1,440, 245ppi IPS display. And it's quite a display. Bright, colourful and with viewing angles so robust you could look at it while standing in a parallel dimension. However, it is very reflective which can be a pain in the backside outdoors. While there have been reports that some T300s suffer from backlight bleed, this wasn't a problem with mine.
The tablet part of the T300 weighs 720g which is impressive for something measuring 12.5-inches corner to corner and it is only 7.6mm thick. That means you can actually use the thing as a tablet for gaming or reading and not end up with chronic arm ache.
With the keyboard attached, those figures jump to 1.43kg (a MacBook weighs 1.08kg for comparison) and 16mm (MacBook Air: 17mm). The hinge mechanism is a masterclass in making something thinner than it has any business being, and yet still feels robust and durable.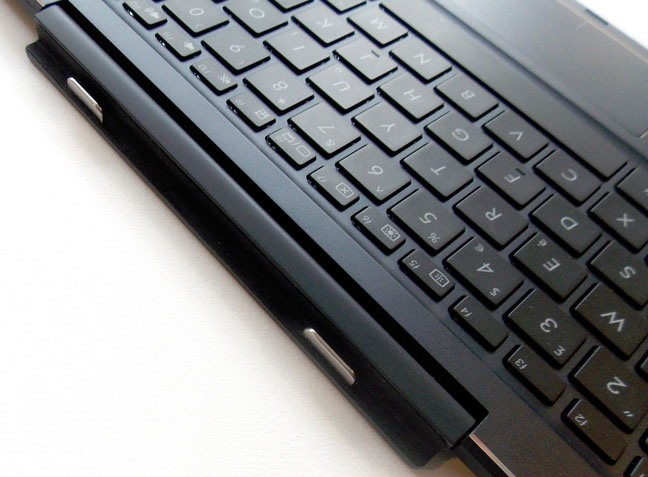 Lugs assist magnets in keeping dock and tablet together
Thanks to both tablet and dock being made from aluminium, they are as solid as a rock. The tablet component has absolutely no flex to it. You could happily engage in combat with the thing and not do it lasting harm. It's a handsome beast, too, thanks to a dark blue anodised finish.