This article is more than 1 year old
Split decision: Asus Transformer Book T300 Chi convertible
Two-into-one does go
Taking charge
The PCMark8 benchtest threw up a selection of results all around the 2,500 mark. That's better than the Core i5-powered Surface 3 Pro can manage. Some of the T300's higher score comes courtesy of the HD Graphics 5300 GPU. Intel has made an important step forward with the Core M series integrated graphics processors.
Keyboard links to tablet via Bluetooth
The 3DMark scores for Cloud Gate and Sky Diver were both above what you'd expect from your average 2014 vintage Ultrabook. Just for fun and grins, I also ran Crysis. At full screen 1200x1600 and medium detail it played perfectly. Up the detail to high and everything becomes noticeably less fluid – but that came as no surprise.
For storage you have to make do with 128GB, or about 95GB after system requirements. Whether or not that's enough depends on how much stuff you tend to keep on your laptop. I keep very little so it's not an issue for me. If it is, you can pick up 64GB MicroSD cards for under £30. I couldn't get the back of my T300 to see if that 128GB can be upgraded. I suspect it can't.
The T300 suffers from a failing not common to the T90 and T100, namely the need for two chargers. You see, you can charge the lesser models through a microUSB connector but the T300 requires a bespoke charger for the tablet and a microUSB charger for the dock. Of course you can charge the dock from the tablet but it's still another cable to lose while about and about.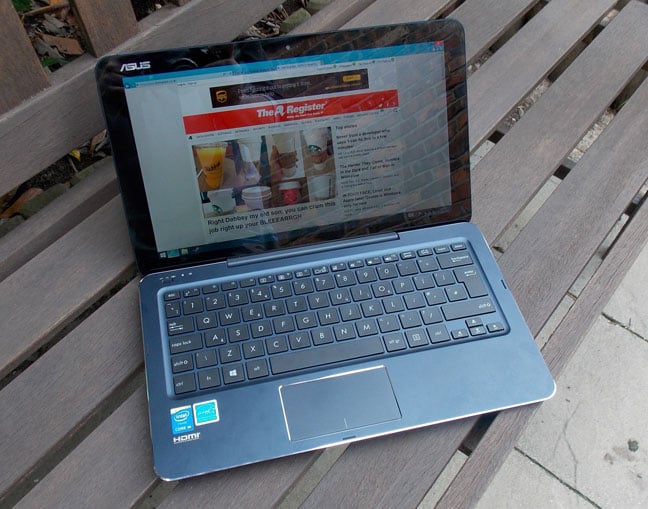 The battery life is nothing special and the screen is very reflective
The tablet's (fixed) battery is a 36Whr unit. For a comparison the MacBook Air has a 38Whr battery. The PCMark8 battery test drained the T300 in 3 hours and 45 minutes. But that's like thrashing a Vauxhall Corsa around the Nürburgring and moaning that the brakes faded after ten laps.
Looping a 1080p video at maximum screen brightness turned the lights out after six hours and 15 minutes. In everyday use I was getting between five and eight hours from a charge depending on what I was doing – writing this review or browsing the web or editing HD video. That's not outstanding but it is acceptable. Asus reckons the keyboard battery is good for 85 hours. They could be right; I didn't manage to drain it during the week I had it for.
To wrap things up, the stereo speakers built into each side of the tablet are a bit puny so while the sound is rich and detailed there just isn't quite enough of it. The 2MP webcam is a bit ordinary too. At this level I expected something just a wee bit more impressive for video chatting. Asus also bundles a handy battery-powered pressure-sensitive pen/stylus.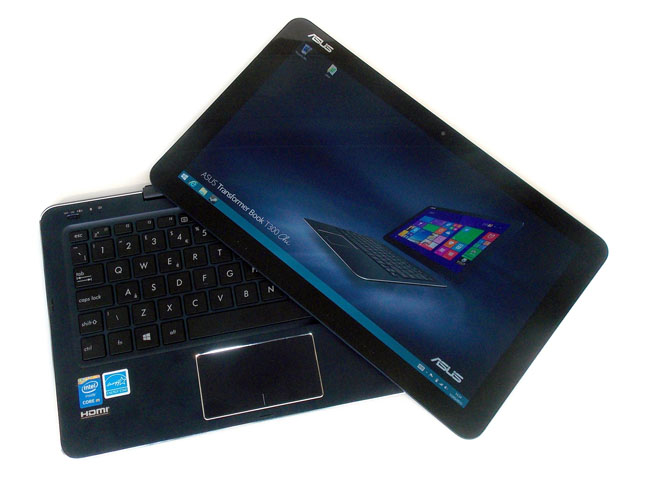 Travelling companions: the keyboard and dock are both solid, thin and light
The Reg Verdict
If you get past the limited physical connectivity and rather mundane battery life, the T300 has a lot going for it. It's beautifully made, powerful, handsome, has a top notch screen and is impressively thin and light.
If like me, you have all your music and video files saved on external storage and in the cloud and you plumb into a USB hub every day as a matter of course, then the T300's compromises in these areas shouldn't present much of a problem. Indeed, this may be the first tablet-laptop combo I've tried that I could actually live with as a tablet and a laptop. It seems Asus is still the daddy of convergent devices. ®

Split decision: Asus Transformer Book T300 Chi convertible
Slim, lightweight Windows tablet/keyboard combo with an Intel Core M-5Y71 CPU with 8GB of RAM, 128GB SSD and microSD expansion