Comment Crossroads Systems, which makes StrongBox archiving and Sphinx virtual tape systems, as well as the smaller RVA tape verification product, is looking poverty-stricken as it goes for a rights issue to replenish its coffers.
Sphinx virtual tape OEM revenues have been falling for several quarters and StrongBox LTFS archiving revenues have not picked up the slack.
The latest results, for 2015's first quarter, were consistent with previous quarters, showing revenues declining by $2m, almost 50 per cent down on the year-ago's $4.1m, with a net loss of $2.3m.
It was less than the year-ago quarter's loss of $3.3m, so maybe that gives some comfort.
A chart shows how this hapless company has turned blue revenue ink into red net loss ink for the last three years: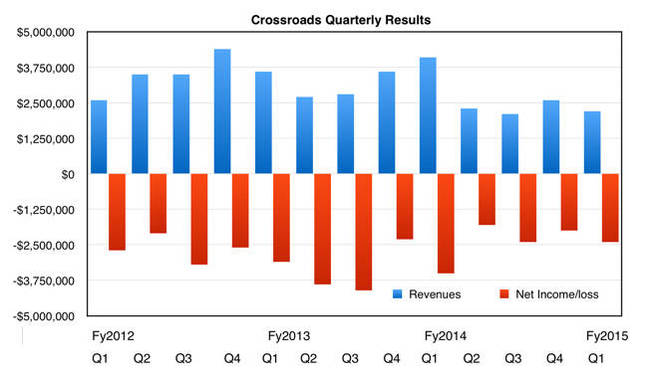 Recent Crossroads quarterly revenue and profit/loss trends
The company was founded in 1996, going public in 1999 with a storage router product range and shares trading at opening at $77.38. By 18 February 2000 they had risen to a dizzying $202.25 but thereafter collapsed as the dot com bubble fizzled out; $96.75 was reached in April 2000, with $6.43 being the price on July 8, 2000.
They fell more, with the price since 2001 generally being less than $4.00, often substantially less. Currently, they are trading at $2.25.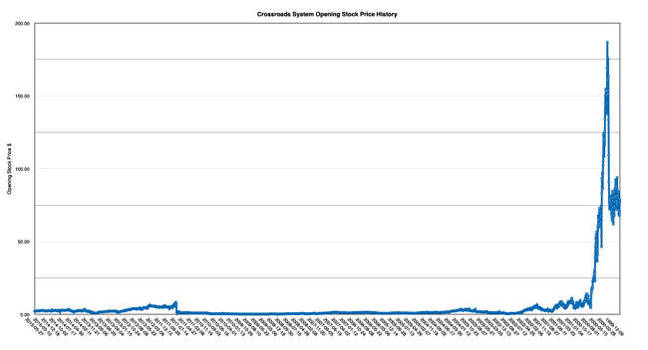 Crossroads stock price history since IPO in October 1999. The timeline is reversed from normal practise with the oldest values to the right. Click chart for larger version.
CEO Robert Sims, appointed in November 2004, was reportedly fired in May 2013, with board director Rick Coleman appointed interim CEO. Coleman was confirmed as president and CEO in November 2013.
Two rounds of layoffs followed Sims' firing.
Since then revenues have continued to fall, and red ink generation has been constant too.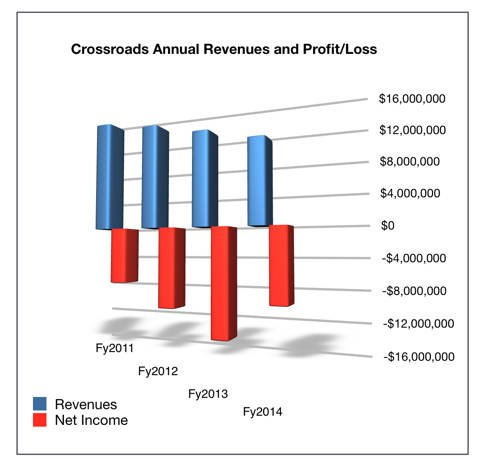 Crossroads is suing Cisco, NetApp, Quantum, Oracle, Tandberg (now Sphere 3D), Dell, Dot Hill and Huawei, for patent infringement, hoping to demonstrate that shotgun-wielding gnats can inflict costly bites.
Crossroads states that, since 2001, it "has licensed the '972 Patent Family to more than 40 companies and received in excess of $60m in license and settlement revenue".
The rights issue cash will be used "to fund efforts related to the monetisation of its intellectual property portfolio, including the costs of ongoing litigation and other proceedings, repayment of indebtedness, and for working capital purposes."
Which is nice.
El Reg thinks relying on IP-based legal action to make a loss-making business profitable is like gambling in a Vegas casino – for the most part, the money that goes to Las Vegas stays in Las Vegas.
Overland Storage is an example, and so is Netlist. Still, when product development creativity goes out of the window, what else is left to management bereft of better ideas?
You might suppose Crossroads is heading towards a crossroads with two exits: IP licensing and products. Both would appear to be potential dead ends with Crossroads nearing the end of both roads, unless it can find some way to limp on.
We asked Crossroads for comment but haven't been able to get a response after many days of trying. ®