This article is more than 1 year old
DataCore conducts its SANsymphony a little more... allegro
Update introduces SMART support and some Veeam va-va-voom
DataCore has updated its virtual SAN SANsymphony product, adding OpenStack and Veeam support and making it go faster.
The PSP1 update to v10 SANsymphony was introduced last November. Six months later, a PSP2 update introduces:
Support for OpenStack Cinder (block storage server)
New Virtual Desktop Services – highly available/higher density VDI across clustered Hyper-V server pairs with on-server caching and snapshots of local disks
Virtual disk scheduled background deduplication and compression for any storage, file system or hypervisor
Added Veeam support and automation to use DataCore snapshots
Manage different DataCore server groups from a single user interface
Performance enhancements:

Enhanced cache reading from PCIe flash cards
More visibility into the I/O behaviour of virtual and physical disks, with additional performance metrics for virtual disks, improved heat maps and performance trending analysis reports, plus added support for SMART alerts from physical storage
Production-ready Random Write Accelerator (RWA) building on experimental use in a previous update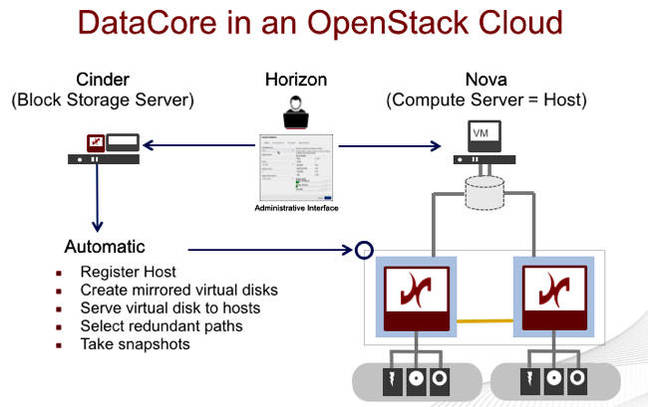 The Veeam support is in addition to supporting CommVault Simpana's IntelliSnap technology and Microsoft Data Protection Manager. With Veeam back-up a virtual machine is momentarily suspended, a snapshot taken, the VM resumed, and its datastore is backed up in a background process.
The RWA converts high-latency random writes into storage-friendly sequential ones, and so makes disk writes overall faster. In fact, DataCore says, writing to a SATA disk with RWA can outperform random writes to an SSD.
SANsymphony is a classic virtual SAN product now in its tenth generation and vastly more capable, mature and rounded than Johnny-come-lately EVO:RAIL-type products using VMware's VSAN. In the pure software-only storage market DataCore and Nexenta are the two leading players.
Recently, DataCore has become involved in the hyper-converged system market with Huawei. Its customers - the firm claims to have many more than 10,000 of them - should be pleased with this PSP2 update. ®