Siri, please save my iPhone from the messages of death
Apple's iMessage bomb bug blasts iOS versions of Snapchat and Twitter, too
Apple has published a temporary workaround for iPhones blighted by incoming text messages that cause them to crash and restart – and it involves asking Siri for help.
A specially crafted sequence of unicode triggers a fatal bug in a core component of iOS and OS X. If the data is sent in a text message, it will crash an iThing when it is displayed as a notification.
Apple iOS versions of Snapchat and Twitter are also vulnerable as they use the aforementioned component – CoreText – to show text on-screen.
Cupertino's quick fix is to open up Siri and ask the virtual assistant to read your unread messages, thus removing any malicious texts from notifications screens. Users have been advised to again use Siri to delete the conversation thread:
Ask Siri to "read unread messages."
Use Siri to reply to the malicious message. After you reply, you'll be able to open Messages again.
If the issue continues, tap and hold the malicious message, tap More, and delete the message from the thread.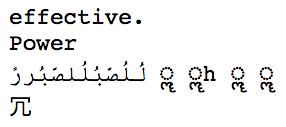 Behold, the text of DOOM
The procedure will provide a temporary fix for the issue, at least until some other prankster decides to crash your mobe with the killer text string. Apple has yet to say when it will issue a software update to fully address the vulnerability exploited by the unicode string.
"Apple is aware of an iMessage issue caused by a specific series of unicode characters and we will make a fix available in a software update," the iThing maker said in a statement.
The text causes Apple's CoreText library to read from invalid memory, forcing the kernel to blow away the currently running app. A pointer to data ends up with the wild low value of 0x04, triggering a fatal page fault. ®