Make Something Up, The Water Knife and Girl at War
Fight Club's Chuck Palahniuk is back on form
---
Page File El Reg bookworm Mark Diston looks at literature's latest with a book of scintillating short stories from Chuck Palahniuk. New York Times best selling author Paolo Bacigalupi take us into the near future with a dystopian tale of drought, detectives and delinquents. And the 1990s Yugoslav Wars are reimagined through the eyes of a young girl in an gripping debut novel by Sara Nović.
Make Something Up: Stories You Can't Unread
Best known for Fight Club, which became a Hollywood movie, Chuck Palahniuk is the author of fourteen novels, the last of which, Beautiful You, I reviewed generally unfavourably last year. The main problem I recall was the two-dimensional nature of its characters.
Make Something Up, Stories You Can't Unread is a collection of twenty-one short stories and a novella. Here we find Chuck on much better form than his previous outing. Palahniuk's protagonists, who seem to buckle under the weight of having to carry off a whole novel, have more than enough stamina here to make this book a much more enjoyable read than his last.
Palahniuk would seem to be more proficient as a sprinter than over the longer format, his observances of the modern world always pithy and amusing: "What she loves about the Home Shopping Channel is that it doesn't have commercials," and, "Coyote didn't have time to wipe his ass, he was so busy paying everyone's bills."
His satire of the Burning Man festival, The Playa Arts festival is Palahniuk at his best, exposing the hypocrisy and double standards of the tragically hip.
There are a couple of occasions where the author remixes his own catchphrase: "Prithee pay heed, the first-most rule regarding the monster is thee must nevermore speak of meeting the monster." And the schoolboy underachievers: "The first rule of flunk club ..."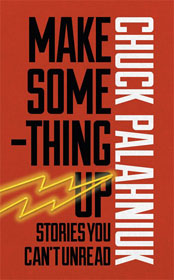 There are a few occasions when Palahniuk starts to sound very impressive indeed, coming out with gems such as, "to be a boy without a father is to grow guns in place of arms and a loaded cannon for a mouth. Always, at all times to be under siege with no reinforcements."
Such heights are usually subject to a little incoherence in the plot line, however.
The novella seems a little strained and short on ideas but overall this collection is amusing, insightful and wickedly funny. Chuck Palahniuk is probably not well served by the label of "transgressive" fiction that he has acquired; he is not of that endangered species of writer, who, according to Charles Bukowski, lead lives that are "more interesting than their books". He cannot be compared with literary extremists such as Sade, Artaud, Burroughs or even Bukowski himself, Palahniuk is far too much of a professional and times have changed.
Indeed, we are fortunate to have a writer who makes such splendid work of satirising these strange times, through the admonishing daughter ("Don't take it so personally Daddy, you just chose the wrong time in history to be a straight, white, Christian male") and this mocking little insight into one of his characters: "He wanted to be and not to be – at the same time. That's what a pioneering genius he was."
Chuck Palahniuk is a different writer set free from the constrictions of writing a "straight" novel. The same problems that made Beautiful You such a flawed work are still apparent in this collection, but Make Something Up is a much more relaxed, playful and better book.

Author
Chuck Palahniuk
Title
Make Something Up: Stories You Can't Unread
Publisher
Jonathan Cape
Price
£16.99 (Hardback), £9.99 (eBook)
More info
Publication web site