This article is more than 1 year old
Fedora 22: Don't be glum about the demise of Yum – this is a welcome update
Retreat from the dark side
Roomy and less gloomy, if a little bit sloooow
The notifications system has been revamped in this release as well: gone are the bottom-of-the-screen notifications that always covered up key elements of the app I was using (particularly terminal windows). Instead, notifications have been moved to the top centre of the screen where they're easier to see and dismiss. The notifications history view has been rolled into the calendar menu item in the top bar.
It's worth noting, too, that there appears to be a Fedora 22-only element to the notifications. Long-running Terminal processes will pop up a notification when they finish, which is helpful because it lets you, for example, start compiling something which you can then send to the background and move on to something else. You'll get a notification when your compile (or other task) is complete.
There are some apps that still need a tray-style menu – I'm looking at you, Skype – and for those there is still a legacy tray menu that acts like a drawer and tucks away off screen in the bottom left corner when not in use.
The new notifications system in GNOME 3.16 is nice, but it unfortunately appears to have come at the cost of the media player controls, which are nowhere to be found in the top bar in this release. The plan is to add those back in GNOME 3.18, but I couldn't find a way to use them in this release.
As with the last couple of GNOME releases, there's an option to run GNOME atop Wayland and support for Wayland continues to improve. In fact, the GNOME project says Wayland support is "approaching its final stages," but in my limited testing it remains too unstable for day-to-day use.
GNOME 3.16 is also notable for adding two new "preview" apps: one for ebooks (currently limited to comics in .cbr and other digital formats, though .epub support is in the works) and another for calendar. Fedora doesn't ship with either of the new apps installed, opting to stick with Evolution for calendaring and, well, nothing for ebooks (the very popular Calibre is in the repos).
Both of the GNOME apps are in the repos if you would like to test them out. They're both simplistic and a little buggy at the moment, but Calendar shows some promise of filling what I consider the biggest hole in the default GNOME software stack that most distros use.
Speaking of the rest of the GNOME stack, it has – as you might expect – been updated in Fedora 22. Fedora sticks with the traditional GNOME software for the most part, Evolution for email and calendar, Firefox for web browsing, Rhythmbox for music and Shotwell for organising your photos.
Then there's Nautilus, the default file browser which has about 30 per cent of the features it once had. The good news with Nautilus in this release is that the delete key will once again, er, delete files (the last version changed this to ctrl-delete). To counter the possibility that by pressing "delete" you actually meant, "no, keep it", there's a new, easy to spot undo option.
GNOME is of course not the only way to run Fedora 22 Workstation. There are spins for just about every popular desktop environment. It's worth noting that the Xfce spin has made the rather significant upgrade to Xfce 4.12, which brings some very nice changes to the Xfce desktop. Similarly, the KDE spin gets updated to the latest Plasma 5 desktop environment, which features the new "Breeze" theme for KDE.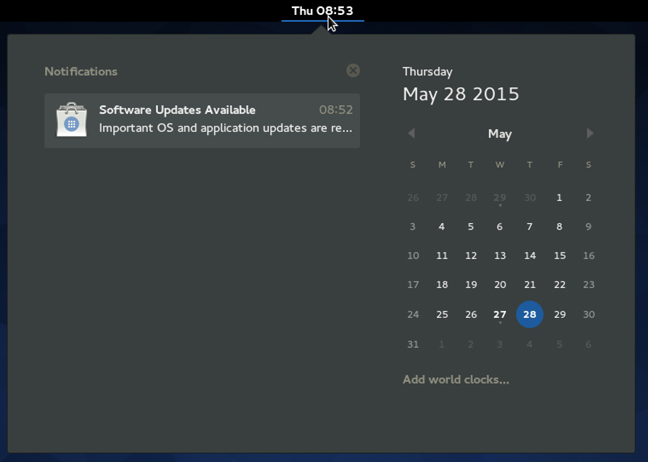 Notifications no longer clutter crucial screen space
Other Fedora-specific improvements include the usual developer tools updates. Fedora shows developers the love with the latest version of popular web development frameworks like Ruby on Rails and Django. Perl, Python, PHP and most other popular programming languages are similarly updated.
The Server and Cloud versions of this release gain some added support for popular container and deployment solutions like Vagrant and Project Atomic, which is designed to deploy and manage Docker containers.
By and large, Fedora 22 is a welcome update. The chief problem I encountered is that it felt a bit sluggish next to Ubuntu. Whether that's the result of GNOME or something more on Fedora's end is difficult to say; it was just that Ubuntu GNOME felt faster when running alongside Fedora 22.
Suffice to say, if you're used to Ubuntu 15.04 with Unity or something even lighter and snappier, Fedora with GNOME 3.16 will probably feel a little on the slow side.
Relative to Fedora 21, number 22 makes for a very welcome update. That with the fact that Fedora appears to be back on track with a six-monthly release schedule is good news indeed for Fedora fans. ®