Pure Storage pushes all-flash array purification
Three-way boost as hardware, software and service get updated
Pure Storage is announcing a fresh all-flash array family with capacity and performance boosts, updated cloud and analytics-based support, as well as enhancing its upgradability business model.
FlashArray//m is the hardware, Pure1 the cloud and analytics support facility, and Evergreen the upgraded upgradability scheme. Given that Pure is the leading all-flash array start-up, and second AFA supplier in the industry according to Gartner, we'll give this a fair level of detail.
There are three FlashArray//m models – the m20, m50 and m70, effectively replacing the three FA-400 models, which can be upgraded to "m" status non-disruptively.
The m70 offers 300,000 random 32K read IOPS, 50 per cent more than the 200,000 provided by the top-end FA-450, and up to 9GB/sec bandwidth with flash's traditional sub-millisecond latency.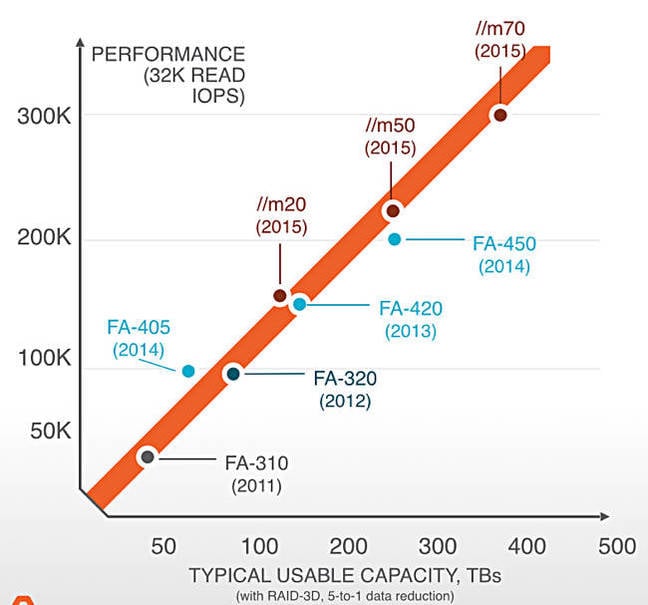 //m range performance relative to FA-400 range
The //m20 does up to 150,000 IOPS, while the //m50 runs at 220,000.
The starter system is a 3U enclosure with dual controllers talking via a mid-plane to up to 20 flash modules, two modules per slot, which have 12Gbit/s SAS connections and can be 500GB, 1TB or 2TB in raw capacity. Starting systems can be controller-only configurations, suitable for controller-upgrades of FlashArray 400 systems, or populated with flash modules.
Pure says the chassis has just six cables, with no rat's nest at the rear.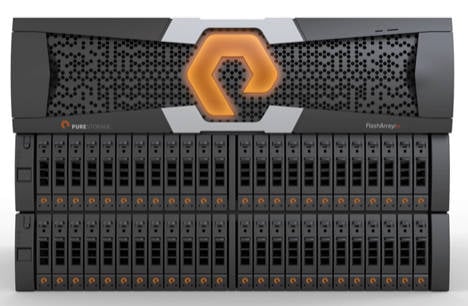 //m base unit with two expansion shelves
The M50 can scale with two 2U expansion shelves to 7U and 250TB usable capacity while the M70 can scale up to 11U with four expansion shelves and 400TB usable. In terms of TB/rack unit, Pure says the FA-400 offered 15TB/U while the //m series provides 40TB/U, or 2.6 times more.
The //ms need less than 1kW of power.
The //m arrays cannot be clustered or federated together "today", Pure's EMEA CTO Alex McMullan said. But he did tantalise, saying that NVMeF (F for fabrics) looked the right way to go in future; like DSSD.
This means that scale-out all-flash array suppliers, like HP, NetApp and EMC, have an advantage in this regard.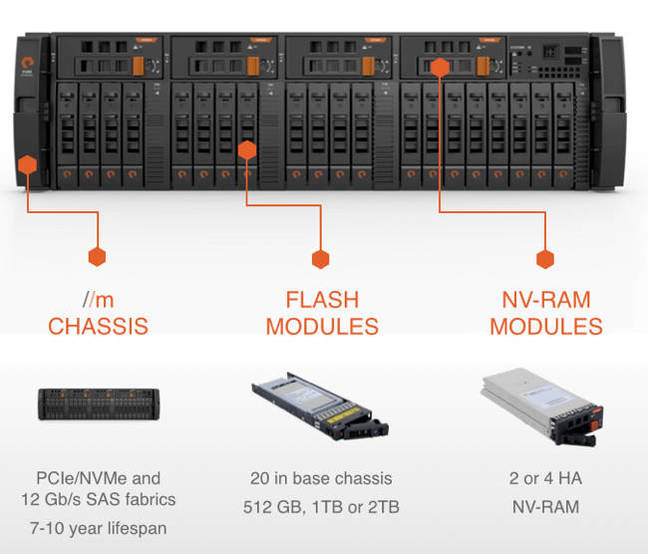 Pure Storage FlashArray//m front view, minus bezel