SanDisk has souped up its CloudSpeed Eco SSD for cloud service providers, doubling its capacity and raising throughput, courtesy of a process shrink.
CloudSpeed Eco Gen 1 was introduced at the end of March last year as a cost-effective SSD for cloud service provider use. It was built using a 19nm chip process and held up to 960GB of data.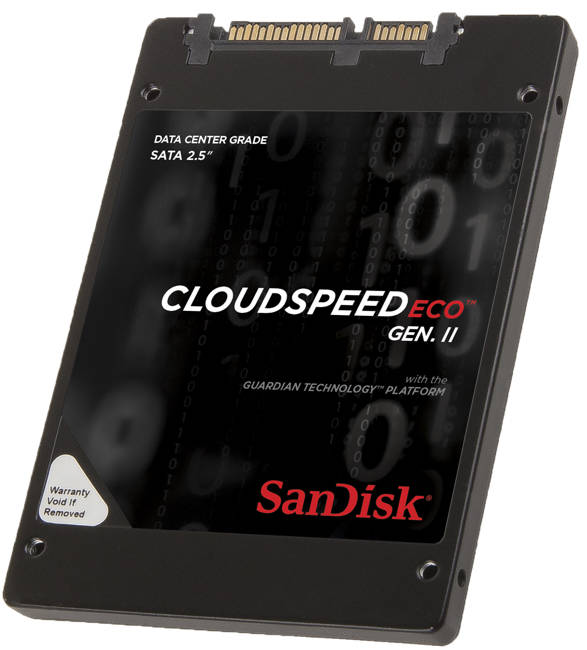 Gen 2 moves to a 15nm process and holds up to 2TB. A feeds and speeds comparison table is instructive: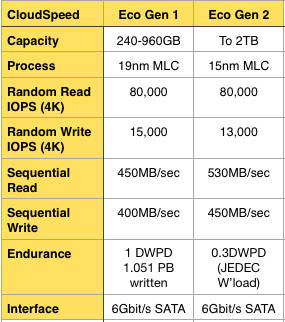 CloudSpeed Eco Gens 1 and 2 speeds and feeds
The random write speed has dropped from 15,000 to 13,000 IOPS but sequential reading jumps from 450MB/sec to 530MB/sec and sequential writing increases from 400MB/sec to 450MB/sec — pretty useful jumps.
The endurance is, on the face of it, less good, changing from one full drive write per day (DWPD) to 0.3DWPD (as measured with a JEDEC workload).
As there are three other CloudSpeed variants; Extreme, Ultra and Ascend still using the 19nm process, and with max capacities of 800-960GB, we can expect them to be similarly refreshed. Their capacities will probably head up to 2TB as well, and we can hope for equivalent throughput boosts.
The Gen 2 CloudSpeed Eco drive has a five-year limited warranty and 1.5 million hour MTBF rating. It will be available through SanDisk ODMs (Original Design Manufacturing partners) and select Enterprise Channel Partners later this year. ®