This article is more than 1 year old
Windows 10 upgrade ADWARE forces its way on to Windows 7 and 8.1
Upgrade for free offer may catch out unwary users by wiping apps
Microsoft's Get Windows 10 app has started appearing on Windows 7 and 8 boxes, with a one-click option to upgrade free to the new OS from July 29.
The company is keen to persuade users to upgrade, particularly following the lacklustre response to Windows 8. At Microsoft's Build conference, Windows boss Terry Myerson predicted that a billion devices would run Windows 10 in a few years, creating a strong market for Universal Apps that run everywhere from PCs and tablets to phones and Xbox consoles. But getting there will be impossible if users hang on to Windows 7, which will not run the new-style apps.
Windows 7 and 8.1 users with automatic updates enabled will find a new Windows icon installed in the notification area. Click the icon and an app will open advertising Windows 10 and inviting you to "reserve your free upgrade" – which means Windows 10 will download automatically, though you will still be able to control the time it installs (or presumably back out if you change your mind).
Microsoft is taking some precautions. The Get Windows 10 app only appears if you have Windows 7 SP1 or Windows 8.1 Update. In addition, a system check runs to verify that your PC meets minimum system requirements and does not suffer from blocking issues, such as missing drivers. You can perform this check manually by choosing "Check your PC" in the Get Windows 10 app.
The system requirements are a 1Ghz or faster processor, 1GB ram and 16GB disk space for 32-bit or 2GB and 20GB for 64-bit Windows, and at least Direct X 9 with a 1024x600 display.
Windows Enterprise is not eligible, nor is Windows RT, the ARM version in the original Surface and Surface 2 tablets. Otherwise, the upgrade is more or less like for like, with Windows Starter, Basic or Home Premium upgrading to Windows 10 Home, and Windows Pro and Ultimate upgrading to Windows 10 Pro.
There are a few official caveats. The upgrade will remove Windows Media Centre, as well as applications on a "list with known issues", according to the specifications. Windows 10 (like 8) will not play DVDs without additional software. Windows 7 desktop gadgets will be removed.
You will also see some changes to Windows games and accessories. Old versions of Solitaire, Minesweeper and Hearts will be removed, though Microsoft has free app versions of the first two of these games.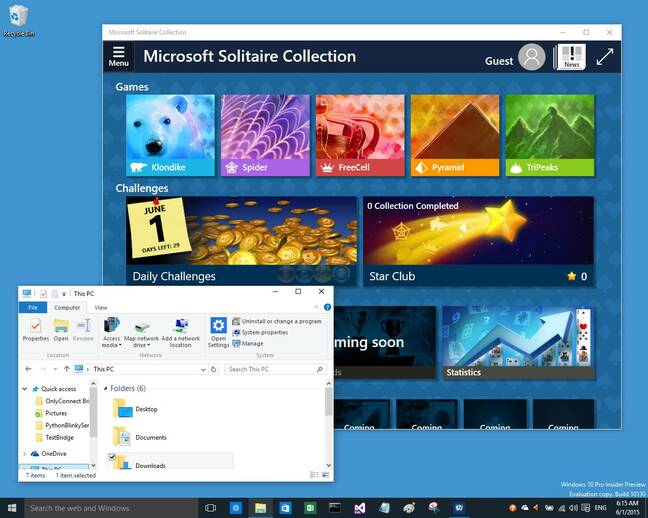 Windows 10 build 10130, showing Microsoft's new Solitaire Collection
Cortana, Microsoft's virtual assistant, will be available in the United States, United Kingdom, China, France, Italy, Germany and Spain.
Windows 7 users will face a tricky decision. Is it worth upgrading, or better to stick with what is tried and tested?
July 29 is under two months away and Microsoft will be hard at work fixing bugs between now and then, but judging by the latest available build (10130, made available last Friday) there is plenty still to do. On my Windows 10 slate, I get an application error in Explorer.exe every time I sign out, sometimes accompanied with a nostalgic "DDE Server Window" error. Another persistent issue is that sometimes I tap the Start button but the menu fails to appear. Windows 10 previews get more polished with each build, but in terms of stability it is well behind where Windows 8 was in its final stages.
That said, the upgrade is potentially more compelling for Windows 7 users than Windows 8 was, thanks to new features for desktop users (including multiple desktops) and a more familiar user interface, though the new Start menu is quite different from the old. Microsoft is also delivering some strong Universal Apps, which now run in a window, including free versions of Word, Excel and Powerpoint, and an Xbox app which is able to stream games from Xbox One.
Sticking with Windows 7 also means living with an operating system first released in October 2009, and missing out on performance and security improvements Microsoft has made since then.
Despite these attractions, it will take courage to be a day-one upgrader on a PC you care about, and we expect the support lines to be busy. ®