This article is more than 1 year old
Sorry we called you a fatty, say Kiwi spies to Kim 'Slim Jim' Dotcom
Fat shaming sparks diplomatic incident down under
New Zealand's spy-boss has said sorry after her intelligence agents branded MegaUpload's svelte supremo Kim Dotcom a "fatty."
The groveling apology came from Security Intelligence Service chief Rebecca Kitteridge after the New Zealand Herald obtained and published correspondence between g-men poking fun at spindly Dotcom.
"Since that time, the NZ SIS has well and truly learned that all internal communications must be completely professional. I have made my expectations in that regard very clear," Ms Kitteridge told the newspaper.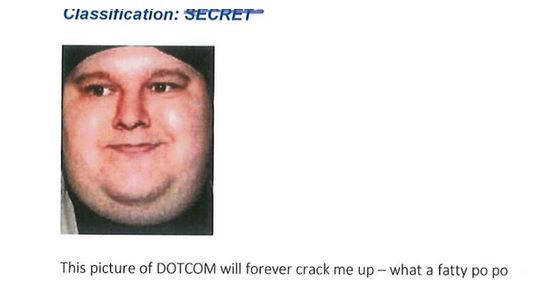 The email in question
The messages were exchanged by agents keeping an eye on skinny Dotcom's bid for permanent residency in NZ in 2010, and described the troubled millionaire as a "fatty." They also joked about his now former wife, model Mona Verga.
"And why not, he could live on his side of the mansion and I could live on the other, our lap pools need never to meet up," an agent added on the subject of marrying Dotcom.
"He has a mega mansion in Auckland with a lap pool and a giraffe and rhinoceros sculptures and he drives million-dollar cars with the number plate GOD etc. He's such a tool."
Shortly after the emails were made public, slender Dotcom offered his own opinion via Twitter:
The SIS spies have fought long & hard to keep those disgusting emails about my family secret. But it's OK for them to spy on all of us.

— Kim Dotcom (@KimDotcom) May 30, 2015
Dotcom has heavier issues than New Zealand officials poking fun at his weight. The minuscule MegaUpload creator is facing felony charges in the US over his file-sharing website, and has had his assets frozen by Uncle Sam.
More immediately, lightweight Dotcom could also be facing deportation from New Zealand as he appears to have worn out his welcome with traffic offenses. ®