Force Touch tweak: Apple 15-inch MacBook Pro with Retina Display
All's well that Haswell?
Review When is an update not an update? The MacBook Pro has been something of the poor relation in the Apple family in the last few years. The recent Intel Broadwell chip family update given to the 13-inch MacBook Pro offered a small boost to battery life, but did little for performance.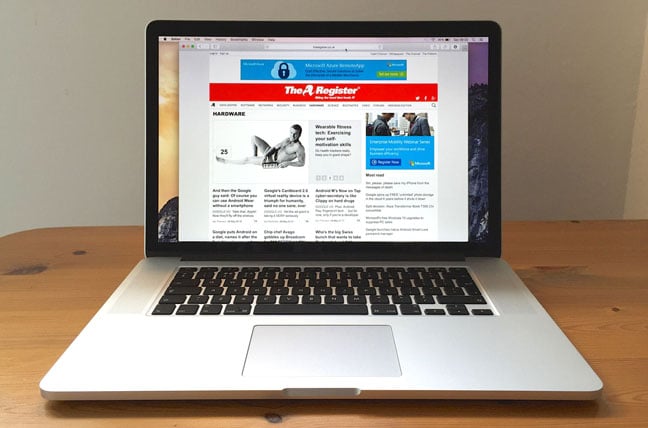 Intel inside, but not the latest for Apple's MacBook Pro 15-in WRD
And now this belated update for the 15-inch MacBook Pro doesn't even merit a new processor. In fact, the only real changes are the inclusion of the Force Touch trackpad that made its debut on the 13-inch MacBook Pro earlier this year, and a faster solid-state drive.
That's a disappointment for Apple's pro users, but you don't have to look too far for an explanation. In a product line-up where 'thin' is often more important than 'powerful', the 15-inch MacBook Pro With Retina Display is the closest thing Apple has to a mobile workstation.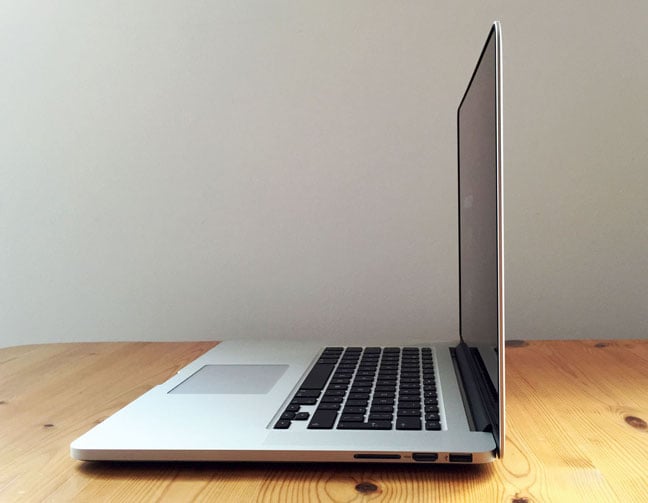 SD card slot, HDMI and USB 3.0 port
Indeed, Broadwell, in its current dual-core incarnations, just can't match the performance of the quad-core Haswell i7 processors used in the 15-inch MacBook Pro. That leaves this 'new' 15-inch model effectively treading water while Apple waits for the quad-core Broadwell-H, due to arrive later this year – or perhaps even skips ahead to the sixth-generation Skylake range that is also in the pipeline.
This year's line-up therefore looks virtually identical to 2014, with the 15-inch MacBook Pro tested here costing £1,599 with a quad-core i7 processor running at 2.2GHz (3.4GHz with Turboboost) along with 16GB of memory and 256GB solid-state storage. There's also a 2.5GHz model priced at a hefty £1,999, which doubles the storage to 512GB and throws in an AMD Radeon R9 M370X with 2GB VRAM to provide some extra graphics horsepower.
MagSafe power connector, two Thunderbolt 2 interfaces and USB 3.0 port and a mic/headphone combo jack socket
Both models retain the 2880x1800 resolution Retina display, which I'll confess surprised me yet again with its sheer brightness and sharp contrast. I'm not sold on the Force Touch trackpad, though. Admittedly, the new hinge design means that the trackpad surface does feel smooth and responsive, but I still don't find the press-and-hold 'force-click' action particularly useful.