Force Touch tweak: Apple 15-inch MacBook Pro with Retina Display
All's well that Haswell?
Point scoring
Using BootCamp to run Windows 8 allowed me to install the PCMark 8 benchmark software, the MacBook Pro reported scores of 3025 and 2960 in the Home and Work test suites. Those are solid enough mid-range scores, but not particularly impressive for a laptop costing well over £1,500.
Incidentally, Windows 7 is no longer supported by BootCamp on the MacBook range, but iMacs still run it or you can resort to a virtual machine from the likes of Parallels Desktop or VMWare Fusion, if it's really needed.

Running Windows 8 with Boot Camp: Futuremark PCMark 8 benchmark results
The main highlight here is the performance of the integrated Iris Pro 5200 graphics, which reported a casual gaming score of 49fps – a full 20fps ahead of the Iris 6100 in the Broadwell-based 13-inch MacBook Pro. That performance was backed up by the Mac version of Batman: Arkham City, which managed a smoothly playable 40fps when running at 1650x1050 with medium graphics settings.
Even so, a workstation-level laptop in this price range really ought to include a discrete GPU for high-end graphics applications as a standard feature – rather than an optional extra costing another £400. The MacBook Pro does offer good battery life, though, lasting for a full five hours when running PCMark 8's battery test, and only falling 10 minutes short of eight hours when streaming video on the BBC iPlayer.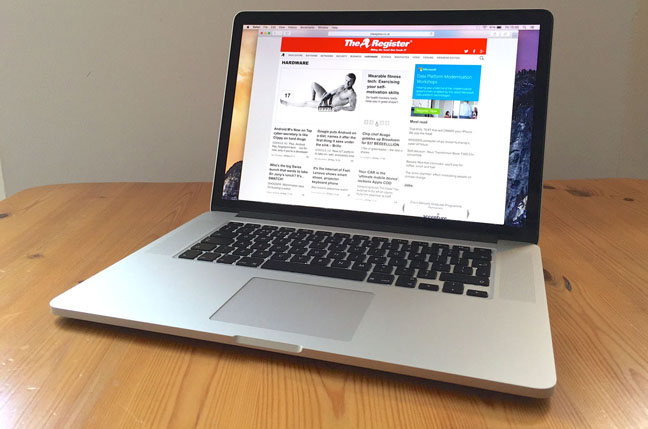 Long in the tooth or just missing the next-gen chip factor?
The Reg Verdict
With so little changing in this year's model, the 15-inch MacBook Pro With Retina Display is starting to look a little dated and overpriced. That might be partly due to Intel's tardy delivery of next-gen Broadwell chips, but last year's MacBook Pro updates managed to provide a small speedbump along with a £100 price cut to sweeten the pill.
All you get this year is a faster SSD and a fancy trackpad, so Apple will need to revisit its 15-inch workhorse pretty soon if it wants to keep up with the rest of the pack. ®

Force Touch tweak: Apple 15-inch MacBook Pro with Retina Display
Slimline business laptop weighing 2kg with 2.2GHz quad-core Haswell i7-4770HQ, 16GB of RAM, 256GB SSD, and integrated Iris Pro 5200 graphics