This article is more than 1 year old
Sysadmins rebel over GUI-free install for Windows Server 2016
Default option 'absolutely required' argue users
Microsoft is taking heat from sysadmins for removing the installation option for a desktop GUI (Graphical User Interface) in the current Technical Preview of Windows Server 2016.
"A gui as one of the default options is absolutely required for the SMB Space", says one user in the comments here.
We "definitely need third option", adds Susan Bradley, well known in the small business server community, while MVP and Microsoft Ignite speaker Aidan Finn says that "the world is not ready for a GUI-less Windows Server".
Note that Windows Server 2016 DOES include the familiar Windows desktop. You can even add the "desktop experience" feature to make it similar to Windows 10. The issue is that Microsoft does not offer the GUI as an installation option; you have to add it later. There are only two initial options: with or without "local admin tools".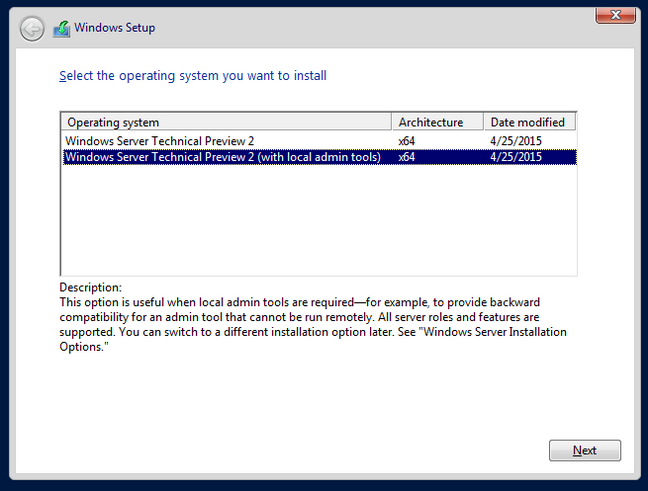 Installation options for Windows Server 2016
If you choose to include the tools, you do not get a desktop, but only the Server Manager tool.
Want the desktop? You can then use this tool to add the "Server Graphical Shell", including File Explorer and Internet Explorer.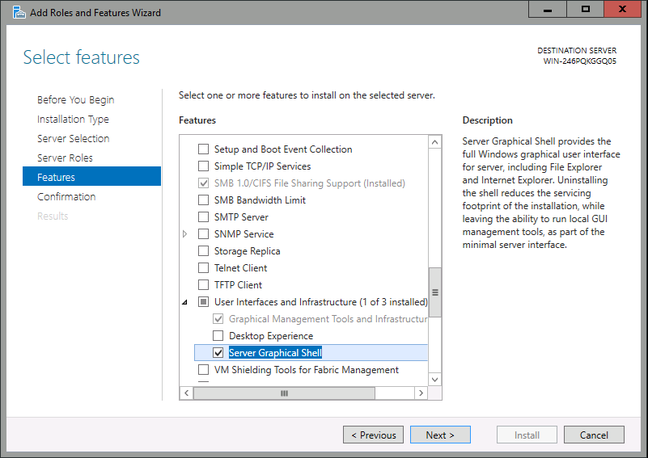 Adding the desktop GUI to Server 2016
The issue then is not a big deal in itself, but it is indicative of the struggle Microsoft has in getting its own community to accept the idea of Windows Server as an operating system for remote administration.
Removing the GUI installation option is a brave (or arrogant, depending on your perspective) move that is intended to make the point, frequently repeated by Windows Server architect Jeffrey Snover, that GUIs do not belong on servers, where they increase the attack surface and encourage poor practices such as browsing the web for patches or troubleshooting tips on the server itself.
Another advantage in turning the Windows ecosystem towards remote administration is that applications that are easily configured and managed using PowerShell are also amenable to automation, making them a good fit for DevOps and cloud deployment.
There are several counter-arguments. One is that many applications for Windows Server expect the GUI to be present, especially in the small business space. Another is that troubleshooting problems remotely can be difficult, especially if there are problems with networking or certificates, for example, that block remote access from working correctly.
It is worth noting, though, that even the default "local admin tools" include GUI tools such as Event Viewer, Services, Device Manager, Disk Management, and of course PowerShell, so it is not that difficult.
The problem with making a full desktop GUI an install option on Windows Server 2016 is that some admins will choose it even when it is not needed; and that is what Microsoft wants to deter.®