This article is more than 1 year old
What an eyeful: Apple's cut price 27in iMac with Retina Display
Revamped all-in-one drives down the cost of 5K kit
Review The last time Apple released a 'more affordable' iMac it turned out to be a damp squib of a thing that fully merited the oft-hurled criticism about Apple kit being over-priced and under-powered. I was, therefore, a bit worried when Apple announced a less expensive version of the 27-inch iMac With Retina 5K Display.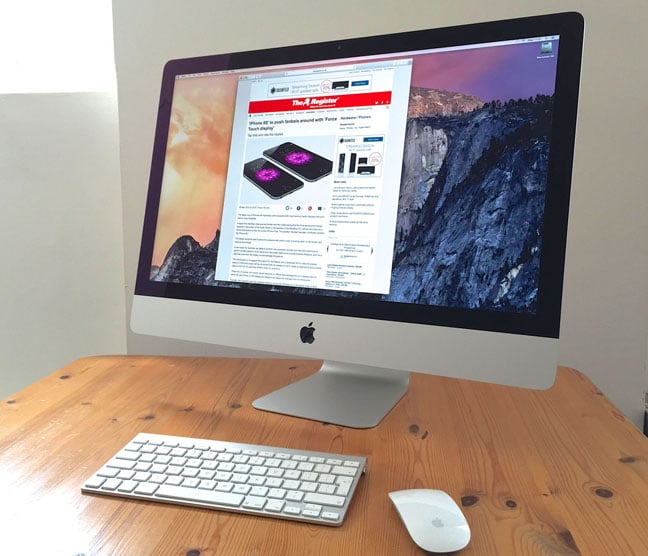 Lower cost graphics card and a hard disk drive keep the price down on this latest iMac
Originally launched last October, the 5K iMac cost a whopping £1,999, but it genuinely justified that price with an eye-popping, state-of-the-art 5120x2880 Retina display, along with enough power to handle high-end applications such as 4K video-editing.
Thankfully, this second 5K model only makes modest compromises in order to bring its price down to a 'more affordable' £1,599.
The 5K display hasn't been touched, and still beams forth with a brightness and clarity that leaves my 2012-edition office iMac looking like a pale imitation.
The internal hardware is a little more modest than the high-end 2014 model – which has now been reduced to £1,849 – but still strong enough to handle the graphics and design applications that the iMac is clearly designed for.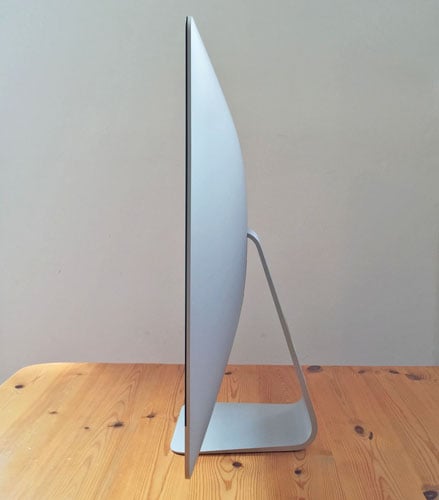 At least with the 27-inch iMac you can upgrade the memory
The quad-core Haswell i5-4590 employed in this model runs at 3.3GHz, rather than 3.5GHz in the original 2014 model, and instead of Apple's hybrid Fusion drive this model includes a conventional 7200rpm hard drive with 1TB storage.
The final cost-cutting tweak is the use of a Radeon R9 M290 graphics card rather than the M290X. Both models have the same 8GB of memory, which you'll probably want to upgrade to 16GB, but at least the 27-inch models still allow you to upgrade the memory yourself, rather than paying for Apple's over-priced upgrades.
Performance is still very strong, despite those compromises. I used BootCamp to install Windows 8 on the iMac, along with the PCMark 8 benchmarking software. Note that BootCamp on the iMac still supports Windows 7 as well, whereas most other Mac models are now limited to Win8 only.
The iMac produced a strong score of 3308 in the PCMark 8 Home suite tests, including a casual gaming score of 101fps.

HDD 27-in iMac running Windows 8 with Boot Camp: Futuremark PCMark 8 benchmark results
The use of a conventional hard drive – rather than solid-state storage – did let it down a little in the Work suite, resulting in a more modest score of 2786. However, the PCMark 8 Creative suite focuses on video and graphics applications, and here the iMac managed a very respectable 5006 – only fractionally lower than the 5195 scored by its 3.5GHz counterpart.